Ag Buildings: Fabric Covered
In this product spotlight we have highlighted eight fabric covered buildings. Looking for more information? Each company and manufacturer has their website listed below each product.
RUSH-CO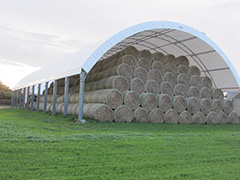 Rush-Co is a diversified, family owned manufacturing company located in Springfield, SD. The success of the company has been driven by its skilled staff to be the leader in manufacturing highly engineered cover systems for membrane covered steel structures, boat lifts, wind energy equipment, rail cars, and agricultural equipment. Rush-Co designs custom fabric solutions for nearly any prob- lem or application and we always do our best to produce the highest quality, affordable, and trouble free products for you.

www.rush-co.com

CALHOUN SUPER STRUCTURE
As a pioneer in the fabric structure industry, we have spent over 20 years creating the strongest, safest and most reliable structures on the market. Our mission is to leverage decades of benchmark engineering and exceptional service to design, manufacture and deliver the best fabric structures in the industry. Calhoun structures boast low operational and maintenance costs in comparison to traditional buildings, while offering a large, secure, well-ventilated storage solution.

We've thought of everything from the strength of your structure, to the longevity of your investment and a warranty we stand behind.

www.calhounsuperstructure.com

FABRA DOME
Fabra Dome is a pioneer and a leader in the hoop barn industry. Fabra Dome is one of the oldest hoop barn providers in the United States. It is worldwide with authorized dealers and buildings from coast to coast, as well as in Alaska, Europe, Mexico and Puerto Rico. Fabra Dome provides an engineering concept that is adaptable to all building needs. The structures are very low cost and able to fit all types of applications. These buildings are classified as portable, and may or may not be subject to real estate taxes, depending on the area. The installation of these structures is quick and quite simple. The low cost and ease of installation gives Fabra Dome buildings a distinct advantage over traditional wood and metal buildings.

www.fabradome.com

CLEARSPAN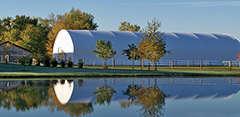 ClearSpan creates the highest quality fabric structures at the most eco-nomical prices. ClearSpan fabric structures, better known as the Hercules Truss Arch Buildings, have been used in hundreds of applications across many different industries. There are design-build, stock and turn-key options, ensuring that there is a ClearSpan structure for any need, and because of this they have earned the name "Buildings of 1,000 uses." The design of these buildings ensures that they can be built quickly – as much as 5,000 sq. ft. a day – and they feature wide open space. A Hercules Truss Arch Building features no support posts, so there is plenty of available space for operating machinery, working or storing.

www.clearspan.com

ACCU-STEEL FABRIC COVERED BUILDINGS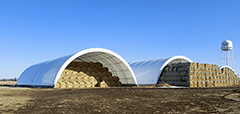 From livestock housing to large equipment storage, Accu-Steel agricultural buildings are your number one choice for increased productivity for your farming operation. Our fabric covered buildings are extremely versatile, and able to be used as temporary job sites as well as permanent storage buildings.

http://asicoverbuildings.com

WINKLER STRUCTURES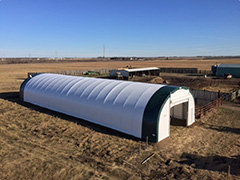 For over 35 years, Winkler Structures has given farms an affordable option to protect their assets. Winkler fabric buildings have been tested in extreme snow, wind, rain, and heat conditions and are still standing after 20+ years. Winkler Structures allow 80 percent of natural light into the building, equating to healthier livestock, high morale from workers, and high-energy savings. Winkler Structures come with a 15-year warranty and are certified by the Natural Resources Conservation Service. Structure options include: multiple door options, vents, eave kits, end walls, fabric, and foundation choices.

www.winklerstructures.com

WECOVER

The available freespan up to 160' wide is just the beginning of the benefits of a WeCover storage building. Available in fabric roof, steel roof or shingled roof options, imagine the room to maneuver your biggest equipment without obstruction, allowing you to store and manage your machinery and supplies in a well ventilated, naturally lit and protected environment. Also available with fully insulated walls, your WeCover storage building has no limitations for your applications. You can build a open, spacious storage building for your farm machinery with a fully insulated shop or office attached.

www.wecover.net

BRITESPAN BUILDING SYSTEMS, INC.

Britespan fabric buildings are the ideal building solution for hay, commodity and vehicle and equipment storage, protecting your crop and capital assets from the harmful effects of weather exposure. A fabric structure from Britespan with help decrease the amount of any spoiled hay, commodity or grain and preserve the feeds nutritional and sale value. The exceptional height and clearspan design of our fabric buildings have no interior columns, allowing for easy access to your crop and convenient handling by farm machinery.

www.britespanbuildings.com