Ag Steel Buildings: Barns
In this product spotlight we have highlighted nine barns. Looking for more information? Each company and manufacturer has their website listed below each product.
MORTON BUILDINGS, INC.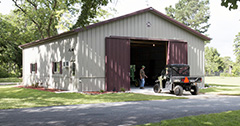 Morton Buildings makes machine storage buildings and farm shops, garages, horse barns, homes and commercial buildings. The buildings are engineered to be dependable, long-lasting and attractive. From concept through completion, Morton Buildings' employees handle every aspect of the construction process. The company's post-frame buildings feature Hi-Rib steel that is roll-formed with arch-shaped, 1" high major ribs on 12" centers, which offers strength and durability. Other innovations include a raised-chord truss system, Energy Per- former insulation system and the exclusive AlumaSteel sliding door locking system.

www.mortonbuildings.com

SUKUP MANUFACTURING CO.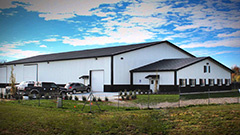 Whether you need a building to house livestock, materials or machinery, the clear-span design of a Sukup steel building allows you to customize it to fit your specific requirements. Sukup's sturdy, rigid-frame structure creates ample amounts of open area, which allows you to adapt the space to your needs. Adding an office or separate work bays is no problem, and the company offers twelve exterior and trim colors to choose from. Wall and roof panels are made from Galvalume+ AZ-55 substrate for extreme corrosion resistance, so your Sukup building will look good for years to come.

www.sukup.com

VARCO PRUDEN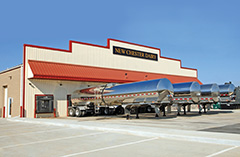 Varco Pruden Buildings specializes in the computer-aided design of pre-engineered steel building systems, including agricultural buildings. Each year, the company supplies approximately 4,000 buildings ranging from 1,200 sq. ft. to more than one million sq. ft. Its network of nearly 1,000 independent authorized builders offers design/build services in local communities across the United States and Canada. Varco Pruden Buildings combine distinctive aesthetic appeal with functionality.

www.vp.com

CHIEF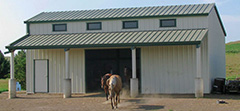 Since 1966, Chief Buildings has designed and manufactured a wide variety of metal buildings, including farm buildings. Every structure is customized to meet the needs of the individual customer. Chief's advanced standing seam roof series provides excellent weather resistance, minimal maintenance, energy efficiency and value. Chief's metal wall panels are available in many colors in either Ultra-Kote or Ultra-Kote Premium finishes. The company's buildings are sold by authorized builders throughout the United States.

www.chiefbuildings.com

ESSEX STRUCTURAL STEEL CO.

Since 1972, Essex has custom-designed, engineered and manufactured steel buildings to withstand severe Northeast weather, from structures as large as 80,000 sq. ft. to as small as 400-sq. ft. utility buildings. According to the company, it hasn't experienced a structural failure on its pre-engineered steel or pole buildings. Customers can purchase a building package directly from the company and build it themselves, or Essex can provide references of experienced contractors.

www.essexsteel.com

SENTINEL BUILDING SYTEMS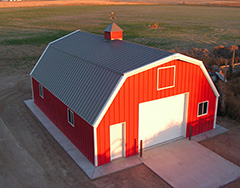 Sentinel's all-steel structures are ideal for farm and commercial operations. Sentinel's Eclipse line offers cost-effective tower and catwalk solutions for grain-handling loop systems for farm and other light-duty applications. Sentinel offers a variety of foundation op- tions to provide you with the ideal floor surface at an affordable cost. Optional lining and partition walls provide customers with multiple design choices and a more finished interior appearance.

http://sentinelbuildings.com

WICK BUILDINGS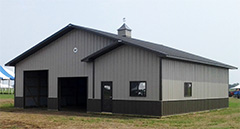 Wick Buildings feature a wood-frame structure covered with sheet steel and/or materials such as brick and block. Clear-span trusses are fabricated, and siding, roofing, liners and trim are formed and cut from rolled steel at Wick's production facilities and then delivered to the buyer's site. The components are then constructed into buildings on-site by crews trained in the Wick way of building. Wick uses only machine-graded lumber for its structural components and full-hard, G-90 galvanized steel with 82,000 psi hardness or better so your building looks great and lasts for a long time.

www.wickbuildings.com

LESTER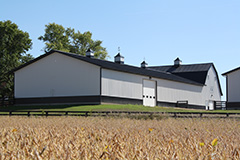 Since 1947, Lester Buildings has built custom pre-engineered, post-frame building systems for farm, livestock, equine, hobby, and commercial purposes—structures that have become the very heart of agricultural operations, including general farm and maintenance shops, insulated shops, spacious machine and equipment storage, grain/ commodity storage. Lester Buildings are sheathed with its exclusive steel panel design. Every project is backed by a dedicated team, from salespeople and drafters to project managers and drivers. Lester aims to provide top quality, functional buildings at an affordable price.

www.lesterbuildings.com

CLEARY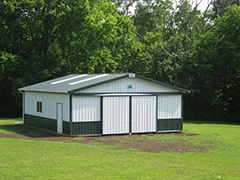 Cleary offers a wide variety of options to let you plan your building your way for a smooth flow of traffic. High clearance all-steel endwall and sidewall doors open wide for easy machinery movement. The doors roll smoothly in the self-cleaning tracks. Roof trusses are designed in a variety of clear spans up to 100-ft. wide, which allows you to design a building to fit on any site. For added energy efficiency, consider the company's popular Energy Miser Option.

www.clearybuilding.com