Fencing:The latest in area separation technology
In this product spotlight we have highlighted ten fencing equipment systems. Looking for more information? Each company and manufacturer has their phone number and website listed below each product.
A New Solution For an Age Old Problem!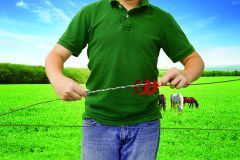 Ranchmate®, an innovative line of wire fence construction and repair products, is changing the old way of doing things – and making them a whole lot easier. The core products in the line are TwistSplices and patented TwistEnds (wire end terminations). The TwistSplices and TwistEnds are used to reconnect any broken or cut fence wire. The TwistEnds are designed to create a secure loop around a post or create a radius around a corner post. Both products are color-coded for specific gauges of wire. The result is a repair that is much stronger than the original fencing wire – which will likely outlast the fence itself. Before being used, the TwistSplices and TwistEnds look as though they are already wrapped around an invisible core. When they are applied to wire, they follow their preformed shape, locking tightly in place and creating a solid rod-like connection. They are made from galvanized steel that won't crack or rust, and are designed to match a variety of barbed and smooth wire gauges and work with wood posts and T-Posts. Ranchmate also offers a unique line of fencing accessories, such as property markers sold under the patented 3D Post™ brand, full-grain cowhide American made work gloves, a fence post wire stretcher and fence clip tie bars for installing and removing T-post clips. As part of PLP's commitment to the future of American agriculture, the company supports The National FFA Organization® through official FFA® licensed products.

Ranchmate®
(800) 290-043
www.Ranchmate.com

MONTANA POST DRIVER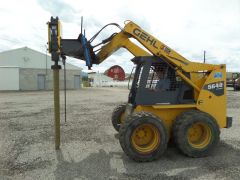 Meridian Fuel Express Trailer
• Universal Skidloader or Excavator Mount
• Quick & Easy On and Off
• Low Profile
• Full Control of Post While Driving
• Plumb Bob & Depth Gauge Chain

3 Sizes Available
• Model 750E, 750 Ft. Lbs.
• Model 1000E, 1000 Ft. Lbs.
• Model 1500E, 1500 Ft. Lbs.
See our website for a video about this product:


MONTANA POST DRIVER
(800) 330-1937
www.montanapostdriver.com

Shaver Manufacturing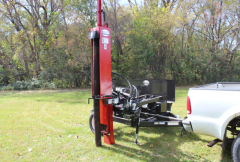 Post Drivers
Farmers and fencing contractors who build fences for a living will tell you that you can't find a better post driver than a Shaver. Shaver's professional-grade post drivers are engineered for the most demanding jobs, from tough soil conditions to tricky side hills to having the ability to drive a wide variety of post types.
Standard Post Drivers
Shaver's standard post drivers offer professional-grade power and performance.
Universal Transport Post Driver (UTD)
Trailer mounted post drivers are here: UTD.
Grand Slam Springless Post Driver
Everything you expect from a Shaver post driver except the springs, blocks or studs.

Shaver Manufacturing
(712) 859-3293
www.shavermfg.com

Gallagher North America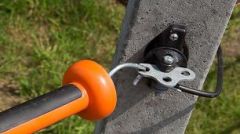 Gallagher pioneered New Zealand's first electric fencing system in 1938 and has consistently led the way in quality, innovative animal management systems that are made to last. Our offering includes electric fencing, weighing, data collection and livestock watering systems. Users of our quality systems and products trust us to deliver solutions that help them do and achieve more on their land and with their livestock. From energizers to portable posts, Gallagher is continually adding new technology to help you do more on your land and with your livestock.

Gallagher North America
(800) 531-5908
am.gallagher.com

Rohrer Manufacturing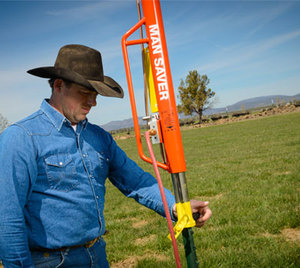 Rohrer Manufacturing's Man Saver Post Driver™ is the only multi-directional pneumatic post driver available on the market. Browse through our series of post drivers. Click on the post driver image to view details and purchase. Visit our user guide section at www.rohrermfg.com/user-guide for instruction manuals and parts lists. To order parts, contact us directly at 1-800-980-7599.

Models
• 98E Basic T- Post Driver
• 99E-X Post Driver 2 -1/4" Max Diameter
• 99E-Y Post Driver 2 - 3/8" Max Diameter
• 99E-M Post Driver 2 - 7/8" Max Diameter
• 99E-W Post Driver 3 -1/2" Max Diameter

Rohrer Manufacturing
(800) 980-7599
www.rohrermfg.com

Kencove Farm Fence Supplies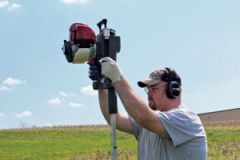 Our high tensile and electric fence product specialists find the best fence supplies and tools for your needs. Kencove Farm Fence ships supplies and tools for electric fence, rotational grazing, horse rail fence, woven wire and non-electric high tensile wire to hold and protect any type of livestock. Quality fence products from Stafix, Zareba, Parmak, and many others shipped direct to your farm.


Kencove Farm Fence Supplies
(800) 536-2683
www.kencove.com

Skidril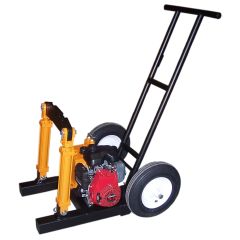 P1600 - Automatic Post Puller
• Patented dual cylinder puller providing 16 tons of force directly in line with the post. Removing a large diameter post even set in concrete is as easy as pushing a lever.
• Dual 8 ton double acting cylinders
• All heavy gauge steel base and frame
• Air filled tires contact ground only when the puller is tilted
• On board hydraulic power supply with 6 piston pump
• Honda 4 cycle power
• Fully automatic lifting and retraction of cylinders
• 16" wide throat for large diameter posts
See our website for more details & products:


Skidril
(800) 843-3745
www.skidril.com

Powerflex Fence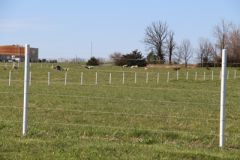 If you are involved in or are considering a management intensive grazing system (MIG), or any form of managed grazing, then you have come to the right place! We graze livestock, and by using the products that we offer, we have learned (and are still learning) what works and what doesn't. We encourage your input on our products. We would like to be part of your grazing network. By providing quality fencing products and sharing information, we hope to assist you in managing your livestock on grazing land.
World Class Fencing at Affordable Prices
Products that Powerflex Fence has introduced to our grazing world include the original Powerflex post, Hybrid twin hook 3-1 geared reels, and Powerflex PolyBraid.

Powerflex Fence
(888) 251-3934
www.powerflexfence.com

Timeless Fence System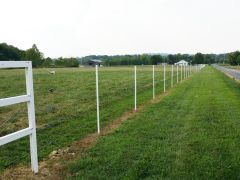 Farmers and ranchers find the Timeless Fence System to fit a very important need in livestock management. Many livestock owners are moving away from barbed wire which is not only dangerous to animals, but is difficult to work with. Electric fencing is a rapidly growing category and the Timeless Fence System provides a product that is easy to install, safer for your animals, requires virtually no maintenance and will last for many years to come. This means you can have more time to spend enjoying your farm rather than fixing fences. Timeless Fence Posts is an eco-friendly and cost-effective alternative to traditional steel t-posts and wood posts widely used in construction, farming, landscaping, and erosion control.
Check out our site for more information:


Plastic Innovation
(800) 788-4709
www.plastic-innovation.com

Wheatheart Trailer Model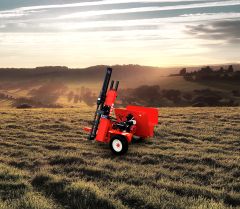 Wheatheart Trailer Model is available with either a Honda motor driven, self-contained hydraulic system or PTO. Portability makes the Trailer Model an excellent rental solution. They offer a wide stance, weighted counter balance and post carrier and low center of gravity for balance and stability. The optional Pilot Auger is easy to install and can drill through all soil conditions and most rock obstructions up to a 40' depth.


Wheatheart Trailer Model
(877) 667-7421
www.Wheatheart.com

CHANGE THE WAY YOU BUILD FENCE!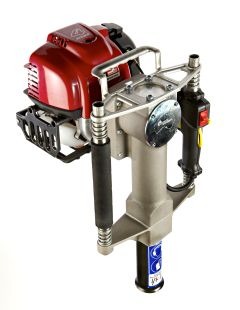 The REDI Driver gas powered post driver offers easy one-person operation. The machine is powered by HONDA, weighs only 35 pounds, and offers 1820 blows per minute. You can install fence posts all day, and still have energy left!
REDI Driver has the best 3-year warranty on the market, and the best customer service! We are a family owned business; you will always deal with a person who is passionate about service and product reputation.
The REDI Driver Classic has a 2" barrel and is ideal for t posts. The REDI Drive Boss has a 3 1/8" barrel & comes with a t post sleeve! Exclusive accessories include: handle extension kit for taller posts, magnum barrel for profiles up to 4", and customized storage box.
We always have FREE shipping.
For more information, & customer testimonials, please visit :


REDI Driver
(509) 235-2780
www.redidriver.com