Product Spotlight: Bale Wrappers
"Lock in Silage Quality Using Bale Wrappers"
Although storing hay inside a barn is preferred, it's not always possible. Wrapping hay shortly after it's cut can help preserve nutrients and reduce spoilage from outside storage. Quality feed means healthier livestock. We took a look at some of the major bale wrapper manufacturers.
Tubeline Manufacturing, inc.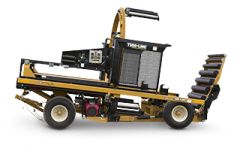 The Tube-Line BaleWrapper TLR5000, focuses on round bales and operator's needs. The TLR5000 has been refined resulting in a lighter, more maneuverable machine. But don't let that fool you, this wrapper is built tough to handle heavy silage bales. The easy towing wagon chassis also allows for quick placement. A rear cam axle lowers the chassis bringing the tail to the ground. This ensures the proper angle as the bales are pushed off the wrapper. To ensure good compression, the cam axle allows you to address the amount of drag on the tail to provide the right amount of resistance.
• Standard large hoop for wrapping 6 foot bales
• ECV models equipped with digital control panel for precision wrapping
• Tubeline's exclusive Film Snap easily cuts wrap with the press of a button.
• Optional Bale Dispatch system for easy final bale pushoff.
• No need to self propel from the end of the row due to our pull away design. The TLR5000 tows from the front, always keeping the tongue accessible.
• 3-Year Warranty

Tubeline Manufacturing, inc.
(515) 669-9488
www.tubeline.ca

Vermeer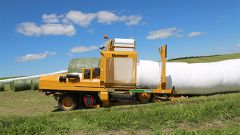 This BW5500 inline bale wrapper from Vermeer is designed to give large volume hay operators and custom operators fast wrapping times and more operational control. The three plastic film pre-stretchers on the BW5500 helps increase wrapping speed over machines with only two pre-stretchers. A digital controller allows the operator to apply a consistent number of wraps on bales with automation that consistently adjusts the wrap settings for environmental variations.
• The user-friendly and easy-to-read precision controller offers the ability to set a consistent number of wraps for each bale to receive. The controller adjusts hydraulic flow automatically to apply the right amount of wraps.
• Contains three 30-inch (76.2-cm) pre-stretchers to wrap faster and increases the time before plastic film refill is needed compared to machine with only two pre-stretchers.
• The soft start feature is designed to reduce machine wear and limit the chance of plastic film tearing on startup making your operation more efficient.
• The optional remote control allows you to start, steer and stop the wrapper from the seat of a tractor or skid-steer loader. This provides more operational control and can help increase efficiency while loading bales onto the wrapper.
• Positioning the hitch on the BW5500 from the loading end allows you to pull the machine away from the line of bales without requiring a power drive on the bale wrapper.
• See your Vermeer dealer for comprehensive service and replacement parts.

Vermeer
(641) 621-8339
www.vermeer.com

Ag Nation Products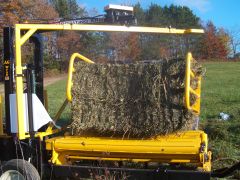 • 5' x 5 ' and 6' x 6' models available
• One Person Operation
• Completely Operated From Tractor Seat
• Wrap On The Move
• Picks Up And Wraps Bales All Hydraulically
• With quick tech plate you can use your skid steer to wrap bales
• Made in the USA.


Ag Nation Products
(800) 247-3276
www.agnation.com

H&S Manufacturing co., inc.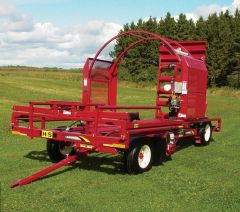 LINEWRAP™ IN-LINE BALE WRAPPER
• Efficiently wraps round bales from 4' to 6' in diameter, and large square bales up to 5' long crosswise, or 6'- 6" lengthwise on the optional riser shelf.
• Maximizes baleage yield, requires less effort and time than conventional wrapping methods, and with only the diameter of the bale wrapped, reduces wrap cost.
• The Automatic operating mode allows the H&S Linewrap to be a one man operation. The machine wraps while the operator loads. An optional remote control is available for side loading.
• The Linewrap's independent power source is a 13 horse power gas engine with electric start. An 18 amp alternator powers the hydraulic system which controls all machine functions.
• The self-contained hydraulic system utilizes a large capacity oil reservoir for cooler operation.
• Conveniently located controls.
• Two 30" pretensioners have a 65% stretch that allows for a tightly wrapped bale.
• Riser bars that allow square bales to be wrapped crosswise is standard equipment.
• The open design of the 7' bale platform allows debris to fall through. The length of travel of the push bar is controlled with adjustable limit switches to reduce cycle time.
• Remote Start/Stop/Steer and Work Lights are optional equipment.

H&S Manufacturing co., inc.
(715) 387-3414
www.hsmfgco.com

McHale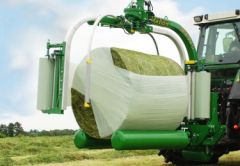 McHale W2020 – Stacking Bale Wrapper
The McHale W2020 is a high-speed stacking bale wrapper. It is a compact machine, which allows one operator to transport, wrap and stack the bale with one tractor or loader. The W2020 can wrap a bale with four layers of plastic in approximately 20 seconds and with six layers of plastic in 30 seconds. The W2020 is controlled by an expert plus control box, which makes wrapper operation fully automatic.
• Fully Automatic High Output Bale Wrapper
• RDS Expert Plus Control Box
• Dual Stretch Dispenser 70% (Optional 55%)
• Folding Arm Design
• Hydraulic Cut & Hold
• Plastic Break Sensors
• Fast Loading and Unloading Times
• Twin Satellites for Stable High Speed Wrapping

McHale
+353 94 9520300
www.mchale.net

Anderson Group co.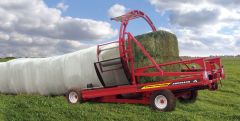 EVOLUTION Xtractor
• Mechanical system : easy to operate, diagnose and trouble shoot
• Versatile : go from round to square bales in 2 minutes
• XtractorTM : push bales off in less than 1 minute at the touch of a lever
• Hydraulic braking system : allows you to squeeze the air out of the row for high quality baleage
• 4 stretchers : reduce wrapping speed by 30%

Anderson Group co.
(819) 382-2952
www.grpanderson.com

KUHN AGRICULTURAL MACHINERY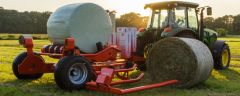 RW 1610
The professional Kuhn RW 1610 round bale wrapper is ideal for those wrapping operations where high capacity and high efficiency are required. Due to its strong design with low table height and standard large wheels located at the rear, there is no need for an active fall damper. This saves extra process steps and the bale can be unloaded on the go. The RW 161 is equipped as standard with a high grip film cutter and film roll holder for two rolls. The RW 1610 is capable of loading the heaviest bales (up to 2,645 lbs.) thanks to a rugged designed main frame, adjustable loading arm and four belt wrapping table. Constant weight transfer towards the tractor avoids slippage in hilly circumstances. In addition, the Kuhn RW 1610 can load and carry a second bale in the loading arm during wrapping. The RW 1610 can be operated via the three levers cable control (M) or computer control box (C). The bale turner, RF remote control, film roll holder for four additional rolls and e-Twin pre-stretcher are optional on the RW 1610.

Kuhn Northamerica
(608) 897-2131
www.kuhnnorthamerica.com