Product Spotlight: Planter Attachments
Find the latest in planting attachments
In this product spotlight we have highlighted eight planting attachment products. Looking for more information? Each company and manufacturer has their phone number and website listed below each product.
SCHLAGEL MFG.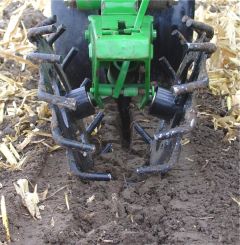 Posi Close Wheels
Common rubber wheels are normally associated with the seed trench crusting and baking, or simply opening back up when they are used in wet soil. This is by far the most common complaint from farmers using traditional wheels. Posi-Close Planter Wheels will leave soft mulch on top of the seedbed to prevent crusting and baking. Posi-Close Wheels will not leave any smearing or extreme compaction which is always coupled with use of regular rubber wheels. No need to worry about the seed trench opening back up with our wheels because there will be no seed trench. With the patented "horizontal rod" design, and with a wide ground path, Posi-Close Wheels will literally destroy the seed trench.

SCHLAGEL MFG.
(888) 889-1504
www.schlagel.net

Pro Mags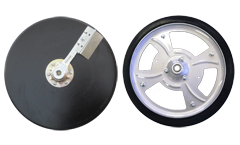 "Since its inception, Pro Mags LLC set out to improve the farming industry for farmers everywhere. Their invention, the Pro Mags all-weather gauge wheel system, was designed to eliminate plugged gauge wheels on row planters and drills. Pro Mags patented products have proven to actively clean the row unit of a planter or drill, drastically reducing or eliminating the area from plugging with mud during the critical seeding time in inclement weather conditions. This has provided the solution to a long overdue problem of moisture dilemma frequently experienced in full tillage, strip tillage, conservation tillage and no-tillage practices. No farming operation can afford down-time in planting caused by adverse weather and/or environmental conditions."

Pro Mags
(605) 213-1003
www.promagsonline.com

Ag Leader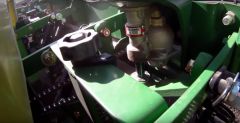 Hydraulic Down Force System
Improve emergence, root development and overcome compaction issues – while reducing row unit stress and bounce – with Hydraulic Down Force from Ag Leader.
• Consistent, proper planting depth no matter the field.
• Automatic response time, unlike air bag systems that can take up to 20 seconds or more to respond.
• Greater control - with row-by-row sensing and control available, apply variable pressure across changing spots in the field or where more compaction is present.
• Minimize row unit stress and bounce with the unique nitrogen accumulator that accommodates the tough operating conditions of today's faster planters.
• Multiple channels of control, which adjust sections of the planter separately to apply optimal down force where it's needed.
• "Free energy" uplift springs provide lift for row units with large hopper boxes, or in heavily tilled or sandy soils. No added complexity of additional hardware, hydraulic lines and the associated drag.


Ag Leader
(515) 735-7000
www.agleader.com

Yetter MFG. Company
LIDlift™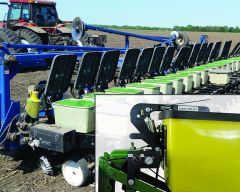 • Saves time, and makes filling or checking seed levels in boxes easier.
• Opens all rows in seconds with turn of a knob.
• Fits most planter models with individual boxes and installation is quick and easy.
• No more losing lids during transport or planting.
• Quick release latch for row meter service.
• Latching mechanism locks lid down until released manually or pneumatically.
• Requires small air compressor or plumb into existing compressor

Yetter MFG. Company
(800) 447-5777
www.yetterco.com

Schaffert Mfg.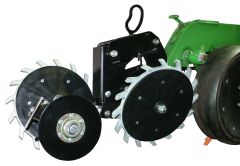 4 Link Closer
Standard swing arm tail sections have limited travel up and down (roughly 4"), which often isn't enough when planting through ditches and over terraces. The new 4 Link Closer from Schaffert Mfg. offers nearly double the travel (up to 7"), keeping press wheels from moving in or out as the row unit flexes, giving more even depth control and better seed-to-soil contact for uniform emergence.
Along with the 4 Link Closer, one can add the G2 liquid fertilizer disc system with a walking beam axle, giving better fertilizer depth and better seed to soil contact in uneven terrain. Bolt Mohawk or Zipper closing wheels to this walking beam axle to break up side wall compaction while compacting the soil around the seed.
The 4 Link Closer and G2 fertilizer disc plus closing wheels are easy to install on John Deere, Kinze, White, and Case IH planters.

Schaffert Mfg.
(800) 382-2607
www.schaffert.com

Hawkins Manufacturing, inc.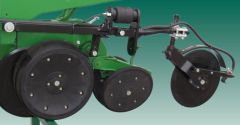 The 'S' Series Planter N Forcer is a precision injection system for your starter liquid fertilizer. You can accurately place your deep band fertilizer directly into the slit made by the single, 14" double beveled blade. The 'S' Series is equipped with a down stop so if you hit soft ground it will not plunge, regardless of your pressure settings. The airbag on the 'S' Series Planter N Forcer absorbs impact from large rocks or tree roots, lifting only the rear arm of the Planter N Forcer, keeping your seed placement consistent. Hilly or terraced ground is not an obstacle with the castering action of the Planter N Forcer. Get the most out of your starter fertilizer with the 'S' Series Planter N Forcer.
• Accurately places liquid fertilizer at a depth of 0-5 inches
• Adjustable side placement from 0-8 inches
• Excellent in any type of tillage: No-Till, Ridge-Till, or Strip-Till
• Castering action allows the N FORCER to follow the planter
• Pneumatic airbags provide quick set, accurate and minutely adjustable down pressure
• Mounts to John Deere, Kinze, White, Case IH, Monosem, and Great Plains
• Easily mounted to either right or left hand side of units
• Unaffected by trash

Hawkins Manufacturing, inc.
(308) 995-4446
www.hawkinsmfg.com

Precision Planting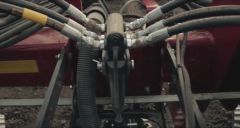 Deltaforce
Two directions of control plus a simple user interface — dominating down force like no one else. DeltaForce replaces the springs or air bags on your planter with hydraulic cylinders. It automatically increases or reduces weight with military precision, on each row individually. So when one row encounters conditions different than another (wheel tracks, old road beds, clay knobs, headlands, whatever), each will adjust independently. Row by row, foot by foot, depth stays exactly where you want it. Row by row, foot by foot, even seed by seed, you produce an environment that fosters uniform germination, optimum growth and maximum yield. You can put DeltaForce on most Deere, CaseIH, Kinze and select White planter models.

Precision Planting
(309) 925-5050
www.precisionplanting.com

RK Products, inc.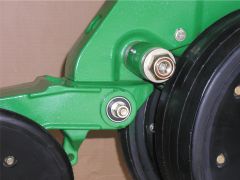 Gauge Wheel Arm Pivot Kit
• Plugging between wheel and disk is eliminated.
• Lubrication is less critical because the bore of the hub is effectively sealed and the loads are supported much more efficiently.
• The tire to disk relationship is still determined by a variable number of adjusting washers but because the arm cannot lean wear is almost eliminated. There should be no need to move the arm again unless other parts are replaced.
• The tire can keep the opener disk clean so scrapers can usually be eliminated.
• The tire holds the soil down next to the disk which should produce a more accurate furrow.
• The RKP kit can be used to hold the gauge wheel arms up on Kinze pusher units when these units are in the locked up position.
You should never need to repair this pivot again. This kit has been on the market since 1994 and to our knowledge no one has ever replaced a part due to wear. This kit can be used to repair other after-market kits including those with skewed bore (eccentric) bushings and threaded bushings (John Deere 1700 style). New Bushings are required.

RK Products, inc.
(309) 792-1927
www.rkproducts.com