Rubber Tracks: On the Right Track *Spotlight Presented By Summit Supply*
In this product spotlight we have highlighted twelve rubber tracks. Looking for more information? Each company and manufacturer has their phone number and website listed below each product.
ATI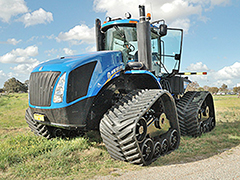 Founded in 1997, ATI manufactures track systems for heavy equipment used in agriculture, forestry and construction. ATI offers both standard track modules and High Idler Module concept, featuring the advantage of the standard track systems but with a more aggressive attack angle allowing the module to climb over most difficult terrain. Ground surface debris is pulled under the track keeping the module and machine on top, which further improves flotation and minimizes surface damage.

www.ati-tracks.com / (913) 269-2964

MATTRACKS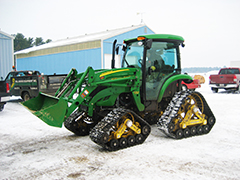 Conquer extreme terrain with ease. Mattracks is the result of the imagination of founder Glen Brazier's 11-year-old son, Matt. After drawing a picture of a large truck with tracks instead of tires, the boy asked, "Could we make something like this?" Brazier gained a patent and began selling Mattracks in 1994. Mattracks has track conversion systems available to fit 4x4 vehicles as small as a Suzuki Samurai to full-size extra heavy duty trucks like a Ford F550 to agricultural and industrial tractors up to 100 hp. Mattracks also sells Trail-R-Mate systems for utility trailers.

www.mattracks.com / (877) 436-7800

SUMMIT SUPPLY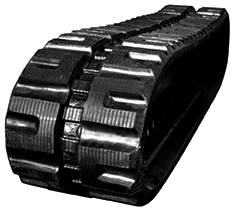 Summit Supply's tracks are made with Continuous Steel Cord technology to produce the among the strongest rubber tracks in the industry. The company blends natural and synthetic rubbers (no recycled rubber) and has eliminated jointing—the weakest part of the track— in its rubber tracks to help prevent premature failures. Summit manufactures tracks for many types of heavy equipment, including compact track loaders and backhoes.

www.summitrubbertracks.com / (888) 888-1248

GRIPTRAC FROM GILBERT AND RIPLO CO.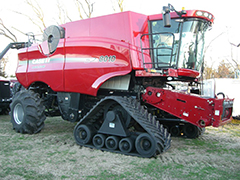 GripTrac rubber tracks make harvesting in wet, muddy fields much easier. The tracks can replace tires on most combines, tractors, grain carts and self-propelled equipment with little or no modifications. The tracks' 36- in. width minimizes compaction and their 46 sq. ft. of bearing surface on the ground helps operators stay on top of most soils. GripTrac reduces fuel use by up to 20% by offering less rolling resistance in mud.

www.griptrac.com / (231) 853-2284

SOUCY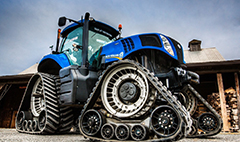 Soucy is proud to present its all new rubber track for Quadtrac and combine harvesters — the result of 50 years of experience in the development, design and manufacture of rubber tracks. Representing a durable and high performance alternative for Quadtrac and combine harvester owners, the track's clean design thanks to its compression is molding conception and its profile optimized for performance, comfort and durability. Soucy's track systems for trailers are versatile and can be used year round.

www.soucy-track.com / (877) 474-6665

TRACKMAN FROM CONTINENTAL CONTITECH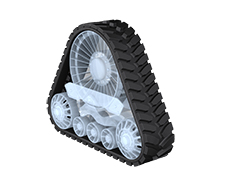 Continental ContiTech's Trackman replacement track lineup focuses on a low cost per hour of operation. Offering performance and durability since 1992, Trackman tracks are engineered to withstand the most treacherous field conditions and are available for select John Deere, Case IH Quadtrac and AGCO Challenger tractors. Other features include fully molded tread lugs, a patented wire-ply design and helically wound steel cable.

www.contitech.us / (877) 394-0482

CAMSO (FORMERLY CAMOPLAST SOLIDEAL)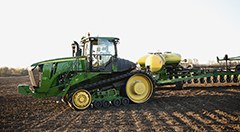 Camso has partnerships with most of the major OEMs in the ag market, including John Deere, AGCO, Case IH, New Holland and Claas. Camso tracks feature a heavy-duty track shield carcass with wear and puncture resistance to provide longer track life. The tracks also include chevron-tapered diagonal treadbars to provide the optimal balance between traction, cleanout, ground disturbance, vibration and ride quality. The company also offers conversion track systems for tractors and harvesters, and trailed track systems for carts, sprayers and planters.

https://camso.co / (844) 226-7624

MCLAREN INDUSTRIES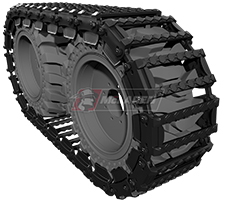 McLaren OTT self-cleaning tracks are made from high grade, manganese-enriched steel for the base of the tracks and heat-treated, chromium- enriched steel pins and links to make them strong and durable. McLaren offers four versions to meet operators' specific needs—Maximizer, Diamond, Magnum and Rubber.

www.mclarenindustries.com / (310) 212-1333

ERSKINE ATTACHMENTS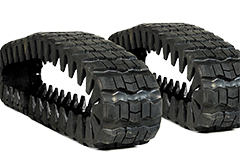 Erskine's rubber OTT tracks can be installed in 30 minutes or less and feature a turf-friendly, non-directional tread design. The tracks are composed of all-natural rubber and include solid Crossfix joints and heavy-duty steel cables to provide optimal performance in the harshest applications.

www.erskineattachments.com / (800) 437-6912

GROUSER PRODUCTS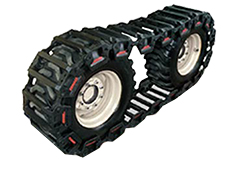 Grouser offers three OTT options—Soft Tracks, with replaceable non-marking shoes; Hard Tracks, with a 5-in. wide pad and larger traction bars; and Cross Bar Tracks, which feature an open bar design that utilizes the tire to provide maximum traction and flotation. The patented open side plate provides excellent cleaning in the pivot area.

www.grouser.com / (701) 282-7710

PROWLER TRACKS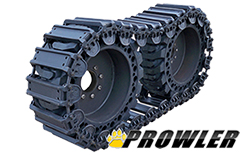 Built of high chromium and manganese steel components, Prowler Tracks' OTT track systems are designed to withstand extreme conditions and provide hundreds of hours of service. All OTT track components are replaceable, which makes them cost effective. Three tracks types are offered— Predator, which are steel tracks with open double bar design; Stealth, which offers replaceable rubber pads; and Fusion, featuring double grouser steel track design with optional bolt-on rubber pads.

www.prowlertracks.com / (877) 477-6953

LOEGERING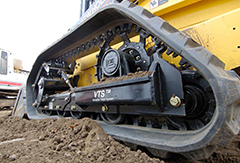 Versatile Track System (VTS) is a complete rubber track undercarriage that bolts directly to a skid steer's standard hubs. By placing the front idler significantly ahead of the front hub position, VTS gains unmatched stability when digging and backing out of trenches as well as hauling and dumping heavy loads. VTS tracks provide bi-directional suspension which adjusts independently from one side of the machine to the other.

www.loegering.com / (800) 373-5441