Seed Tenders: The latest in seed tending technology
In this product spotlight we have highlighted nine seed tending equipment systems. Looking for more information? Each company and manufacturer has their phone number and website listed below each product.
Meridian Manufacturing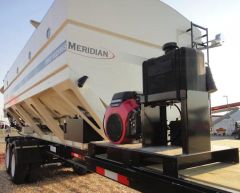 Seed Tender Express (Bulk)
Handle small or large amounts of bulk seed and fertilizer safer, easier and quicker with Meridian's Seed Express.

110 BULK SEED TENDER®
The 110 BST is built for the farmer who farms up to 500 acres and for retailer rental use.

SEED EXPRESS™ 225RST™
An upgrade to the Meridian team, the 225RST™ unit has two compartments and holds enough seed to keep you in the field all day. It works great for planters with individual boxes and bulk fill planters.

See our website for more models & additional information:
Meridian Manufacturing.
www.meridanmfg.com

Strobel Manufacturing, Inc.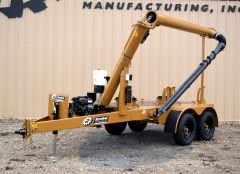 Low-Profile 2 Box Seed Tender (pictured)
• New Design - New Price
• Lowest Profile on the Market
• Patented Technology
• One-Piece Rubber Gasket
• Increased Stop Height
• Bolt-On Deck
• 24 Month Strobel Strong Warranty

Other Seed Handling Models Available!
• Box Seed Tenders
• Bulk Seed Tenders
• Seed Treaters


Strobel Manufacturing, Inc.
(308) 548-2254
www.strobelmfg.com

Ag Dryer Services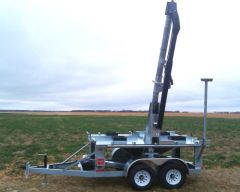 ADS Bulk Seed Buggy
Our team at Ag Dryer Services has designed the ADS Bulk Seed Buggy keeping in mind gentleness on seed, ease of use, lowest possible load height, galvanized construction for long life, road handling ability, and safety in all areas. Most commonly used for corn, soybean and wheat. We also have customers who use our seed tender exclusively for cotton, rice, and cover crops such as rye.
These seed tenders allow the grower to transport boxes of bulk seed directly to the field. The standard 3 section spout has a 30' range for filling individual row box planters. A shorter spout is available for use on bulk fill planters.

Models
• ST100 - 2 Box seed tender
• ST200 - 4 Box seed tender
• ADS Bulk Seed Tote - NEW!



Ag Dryer Services
(308) 856-4636
www.agdryer.com

Crustbuster®
The most versatile seed delivery system on the market today that incorporates the most preferred method for bulk seed handling.

• Telescoping Conveyor Option available on 330/411, 240 and 160 Seed Tenders
• 240 or 160 Bushel total capacity
• 2 Compartment versatility
• 8" Belt in a 6" tube
• Conveyor pivots a full 180"
• 100% Cleanout! No Cross Contamination as opposed to augers and cleated belts!

Check out our site for more information:

Crustbuster®
(620) 227.7106
www.crustbuster.com

Patriot EquipmenT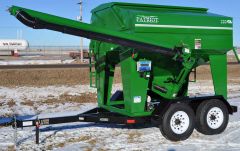 220 Seed Tender
• 5.5 HP Honda Engine (Electric Start Optional)
• Electronic Variable Speed Throttle Control
• 2 100 Unit Compartments (front and back)
• 2 Shut Off Gates in bottom hopper
• Sight Glasses to see seed levels
• Direct Drive (No Belts!)
• Ground Controlled Offset Lid for easy loading
• 3 Stage Telescoping Spout
• Delivers up to 8 bushels per minute
• 35 degree slope for complete cleanout
• Cleanout door at bottom of auger
• Forklift loading brackets
• Spring loaded auger hinge for easy up/down from ground


Patriot EquipmenT
(800) 264-6587
www.patriotequip.com /

Unverferth Manufacturing Co., Inc.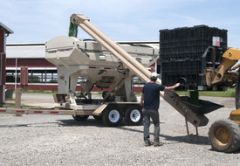 55 Series Seed Runner Tender - Smoother, Gentler Self-Filling and Unloading with Lower Profile
Seed Runner seed tenders are ideal for the widest variety of bulk seed handling including corn, soybeans, cotton, peanuts and wheat.
Tank capacities are 400 seed units for model 3955XL; 375 seed units for models 3755XL and 3755; and 275 seed units for models 2755XL and 2755.


Unverferth Manufacturing Co., Inc.
(419) 532-3121
www.unverferth.com

J&M Manufacturing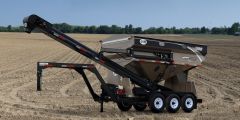 LC Series Seed Delivery System Larger Capacity • Lower Center of Gravity Luxury Controls • Longer Conveyor
The new LC Series Speed Tenders offer improved features to maximize your planting efficiency. The improved tank and support arm design features a large capacity tank with lower overall height, allowing you to carry more seed with a lower center of gravity while also making it easier to fill and more stable to transport over uneven terrain.The longer conveyor with large diameter round tube belt design makes it easy to reach the tallest central fill and widest box row planters. Our patented Tru-Trak with V-Belt conveyor is designed to reduce seed damage and premature wear on the conveyor belt due to misalignment.

J&M Manufacturing
(419) 375-2376
www.jm-inc.com

Parker Equipment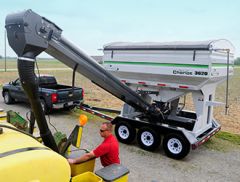 Seed Chariot Seed Tenders
With the operator friendly features you've come to expect from Parker such as speed, capacity, and convenience, look no further than the new Seed Chariot models 2620 and 3620 for your bulk seed delivery needs.
Hopper Box
• Dual compartment box with 260- & 360-unit seed capacity
• Steep-sloped sidewalls ensure fast and complete unloading
• Standard Weatherguard roll-over tarp protects the contents from adverse weather See our website for more details & products:


Parker Equipment
(419) 532-3121
www.parkerequip.com

D&K Trailers, Inc.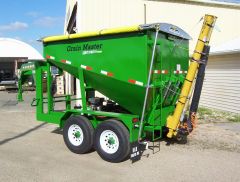 FuelMate produces a Deluxe line of Fuel Trailers which feature a large lockable front cabinet for reels, pumps, and accessory storage. The FuelMate cabinet features "Gull Wing" style doors for unobstructed access to the contents stored inside. Most hose reels and pumps are suspended from inside roof mounts to allow storage in bottom of cabinet. Pump options range from 12v style pumps to gas powered pumps. FuelMate is offered in 500-, 750-, and 990-gallon capacities. Options include a DEF system including a stainless steel tank, pump and hose reel, Greaser systems, new and used oil systems, Drawer System for tool storage, work lights, meters, air compressor, and compressor/generator combinations.


D&K Trailers, Inc.
(866) 308-4849
www.dktrailers.com