Turning Up the Heat - Which Outdoor Furnace is for You?
Choosing an outdoor wood furnace will give you long term benefits. You can eliminate most of your utility bill for your home and outdoor farm buildings. An outdoor furnace can heat several buildings at once as well as your domestic water. An outdoor wood furnace isn't an installation you want to skimp on. Performance between models and companies can vary greatly. Dozens of factors determine overall performance, but the furnace door and a good exhaust system are paramount. To increase longevity, Following the manufacturers operating and maintenance instructions is important for keeping the furnace free from rust and creosote (a wood-burning by product) and are the most important things for proper maintenance. Keeping the corrosion inhibitor properly maintained is imperative."
Highlighted are several of the top outdoor wood furnace manufacturers to help you in your search for the perfect outdoor furnace.
CENTRAL BOILER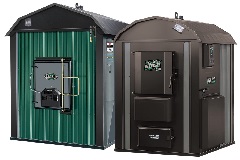 CLASSIC EDGE & CLASSIC SERIES
Operating a Classic Edge outdoor wood furnace is easy with the industry exclusive FireStar combustion controller that controls all aspects of combustion
automatically. With the optional FireStar XP, it can ev en be used to send you text messages and other operational information in real-tim e. To help maximize efficiency and deliver the most heat from your wood, the patented air charge tube adds air in all the right places and at the right times in the combustion process. More heat is delivered to your buildings because of the spray-on urethane foam that is airtight and waterproof. In fact, it is the same kind of insulation used in high-efficiency water heaters and re frigerators. For non-residential applications, the Classic series of outdoor woo d furnaces is unmatched in performance and design.
www.centralboiler.com
HARDY MANUFACTURING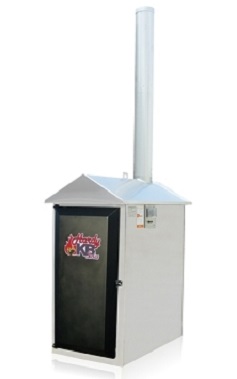 KB125
In 1976, Hardy Manufacturing Co. , Inc. introduced the Hardy Heater. The company's latest model-the KB125-is an EPA-certified unit that utilizes t he gasification process to burn wood gases and then transfer heat to water through multiple heat-recovery chambers. This process reduces wood consumption by up to a half while dr amatically lessening exhaust when compared to traditional units, according to the company. The sturdy stainless-steel construction eliminates the need for costly annual water treatments. Like all Hardy furnaces, the KB125-which offers 120,000 btus of heat output-connects to most existing heating systems. Hardy will soon release a larger KB series heater.
www.hardyheater.com
HEATMOR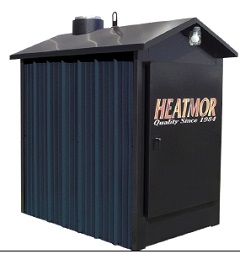 X-SERIES
In May 2015, Heatmor released the new X-Series outdoor furnaces, the 200X
and 350X, in response to the new EPA performance standards for hydronic
heaters. The X-Series features a new stainless-steel flue design with more
surface area, which improves efficiency and burns less wood than the previous
CSS models, according to Heatmor. Both the 200X and 350X maintain
the proven updraft system, Heatmor's unique ash auger system, water-cooled
doors, and one of the best warranties in the industry.
www.heatmor.com
NATURE'S COMFORT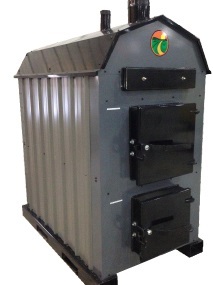 GT-6000
Nature's Comfort's GT-6000 is a three-stage downdraft wood-burning boiler that produces 250,000 btu. The smokeless unit uses high-temperature gasification and a honeycomb catalyst filter in the burn process, and is EPA certified. Controls are simple, with a shutoff switch on the front and back of the unit. The furnace is unique in that it contains more than 670 lbs. of firebrick, which produces a "flywheel effect" for storing heat and increasing efficiency, according to the company.
GREENTECH MFG., INC.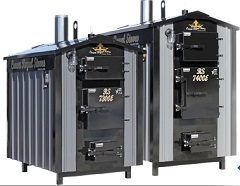 CROWN ROYAL PRISTINE SERIES
The Crown Royal Pristine line consists of two models of gasification furnaces designed to achieve high efficiency ratings while offering extremely low emissions.
The EPA-certified units are intended to burn dried wood and can be installed in areas with the strictest emission laws. Pristine furnaces are constructed of 10-gauge 409 stainless steel, with a round design for the firebox and outer drum, which offers corrosion resistance, strength and optimal heat transfer. The units refire automatically when needed to maximize and control energy use and heat delivery.
EARTH OUTDOOR WOOD FURNACES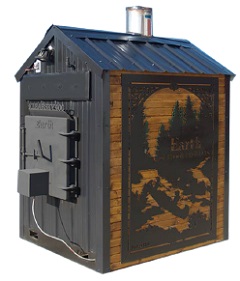 KLEAR SKY SERIES
Earth Manufacturing aims to provide professional-grade, simply designed, efficient and affordable hydronic wood boilers. Klear Sky, its latest series, is EPA certified and offers overall efficiency and reduced emissions. The units' Earth-Bio Fuel Controller manages the furnace through Variable Combustion Technology including pulse and variable 02 allocation, Heat Smart wood fuel analysis, and Intelligent Catalytic pre-heat and burn. Other features include an in-line Clean Burn Catalyst Housing, Emissions Energy Transfer Chamber, Electronically Actuated Dampers, and H20 and 02 Diffusers.
www.earthoutdoor.com
HAWKEN ENERGY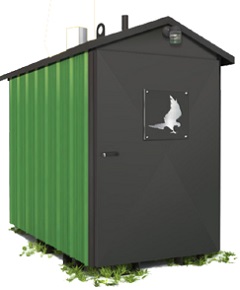 GX-SERIES
In a Hawken Energy GX-Series outdoor wood boiler, gasification is the key to high output, low-emission combustion. Hawken builds it furnaces with commercial-grade A36 structural carbon steel, which offers strength, high thermal conductivity and excellent longevity. The company uses ¼-in. steel for the firebox assembly and other key parts, which provides a balance of heat transfer efficiency and durability. Hawken Energy offers one of the longest warranties in the industry, with extended limited warranties for up to 30 years.
https://hawkenenergy.com
HEATMASTER SS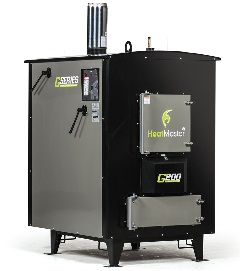 GS-SERIES
Tough on Winter, Easy on You. If you're looking for an outdoor furnace that promises long lasting, easy to use money savings with unmatched support, look no further than Heatmasterss furnaces. Released this spring, the NEW GS Series is available for a LOW INTRODUCTORY PRICE and comes with industry leading efficiency and emissions, industry best warranty and features that make it easy to use and maintain. The G Series, rated the #1 outdoor furnace for efficiency, cost and owner satisfaction by an independent study, offers smokeless loading, easy clean handle for convenient cleaning of heat exchange tubes and a sight glass so you can see the fire without opening doors.
www.heatmasterss.com
POLAR FURNACE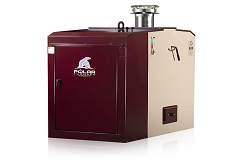 G-CLASS
G-Class is all about making wood burning as clean, simple and easy as possible while eliminating your high heating bills. To accomplish this, the G-Class is packed with an impressive array of features which together deliver unmatched product value. You will love how easy the G-Class is to operate and how simple it is to maintain. You will love the smoke free combustion and be amazed at how much less wood you will burn when compared to older outdoor wood furnace technology. G-Class takes it to a whole new level. Learn more on our website.
TAYLOR MFG., INC.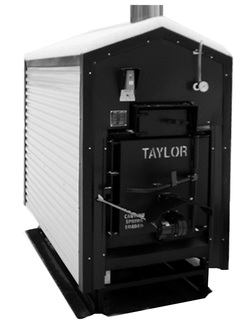 WATERSTOVE®
Tested and listed by Underwriters Laboratories, Taylor Waterstove® offers the safest way to heat any structure. All fire is taken out of your home or building and only hot water is pumped inside providing you with purer, cleaner air and lower insurance rates than with an indoor wood stove. Taylor units are also vented into the air, eliminating the dangers and regulations of a pressurized boiler. A Taylor unit will burn almost any wood cleanly, safely and effeciently.
www.taylormfg.com