AGCO's Challenger 1000 Series Tractors Debut at Farm Progress Show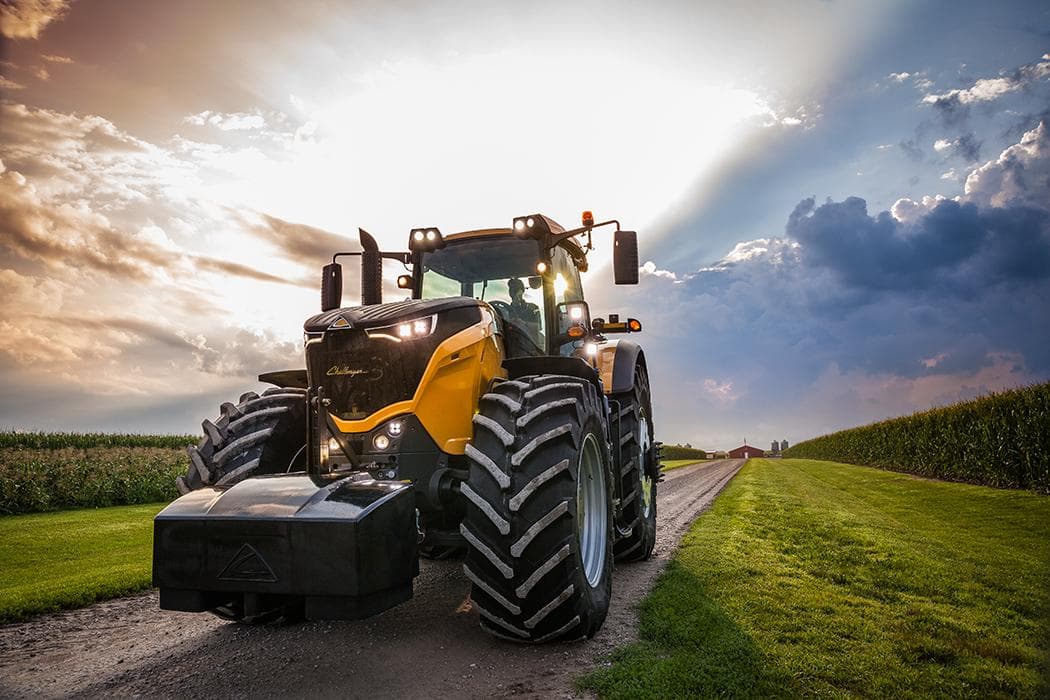 Challenger®, a global brand of AGCO Corporation, introduced an entirely new category of tractors to North American agribusiness operations during the 2016 Farm Progress
Show in Boone, Iowa. The Challenger 1000 Series tractors, the largest fixed-frame tractors in the world, are the agricultural industry's next 'must-see' innovation. Designed to deliver lower cost of ownership and improved productivity per acre, the Challenger 1000 Series tractors can be the single solution for both heavy draft and row crop work.

The Challenger 1000 Series tractors combine the power of a small-frame, articulated 4-wheel drive with the flexibility and speed of a lighter-weight, fixed-frame row crop machine. They are offered in four models ranging from 396 to 517 engine horsepower with a weight range of 31,204 lbs. (14,153 kg) to 50,706 lbs. (23,000 kg).

"Agriculture in North America is undergoing yet another evolution as operations become even larger and require more efficiency and productivity from their overhead investments," says Josh Keeney, tactical marketing manager at AGCO. "The Challenger 1000 Series tractors are a solution to this challenge, allowing producers to invest in a machine that can serve multiple needs in their operation, helping them be more profitable. We believe this approach just makes sense – we call it intelligent farming."

AccuEngineering™ delivers intelligent farming
The Challenger 1000 Series tractors are built upon the new AccuEngineering™ platform. This is Challenger's approach to developing smarter, more intuitive products that increase a farm's productivity and reduce input costs.

"For years, Challenger tractors have been known for their toughness and durability. But as agriculture changes, so do the needs of our customers," Keeney explains. "From the controls in the cab, to the new AccuDrive™ powertrain, to the AccuTerminal™, AccuEngineering maintains Challenger's trademark toughness while bringing a new standard of performance and productivity to agriculture."

Innovative AccuDrive™ powertrain expands modern farming possibilities
In the quest to provide a single solution for different applications on the farm, AGCO engineers combined a number of innovations. They began by powering the tractors with high-capacity six-cylinder, 12.4-liter, MAN engines with VTG turbochargers which adjust to optimize airflow for optimum power boost over a wider rpm range. The result delivers an impressive 1,770 ft. lbs. of torque at a lower engine speed of 1,100 rpm. This 'high torque, low speed' approach allows the Challenger 1000 Series tractors to run in the maximum torque range while delivering low fuel consumption, making them ideal for heavy draft work and ensuring maximum performance, 365 days a year.

To give the tractors their nimble flexibility, engineers created the AccuDrive powertrain which combines the Challenger Accu-VT™ continuously variable transmission with variable four-wheel drive.

"The key to this solution is a drivetrain that drives both axles independently. Unlike today's conventional four-wheel drive tractors that use a fixed torque ratio between the front and rear axle, AccuDrive employs variable four-wheel drive that distributes the torque independently over two transmission outputs on each axle. An intelligently controlled, four-wheel clutch manages the torque, so it can be shifted between the axles according to need.

"We call it Challenger Torque Vectoring," explains Keeney, "and this is how we get the power and traction of an articulated tractor into a fixed-frame platform."

In addition, the tractors were created with a light base weight and convenient ballasting system to make them easy to adapt and ideal for row crop and road work. Maximum road speed of 31 mph is reached at a fuel-saving 1,200 rpm.

Flexible, convenient front ballasting system adds to versatility
Flexible and convenient front ballasting options ensure the tractors are versatile enough for use from the beginning to the end of each crop year. The simple front ballasting system has five interchangeable weight options ranging from 1,978 lbs. to 7,275 lbs. Easy ballast pickup and self-leveling front axle suspension allow the weights to be changed in minutes.

Intuitive tractor management for ease of operation
Engineered for productivity, the Tractor Management Center (TMC) of the Challenger 1000 Series puts all tasks and functions within easy reach, reducing time, distraction and fatigue. Access to the Advantage armrest, the 10.4-in. AccuTerminal, Advantage joystick, PTO controls, crossgate (lever optional) and keypad are within easy reach of the operator's fingertips. The ergonomic design and functionality give the operator complete control and reduces excessive body movements so the operator can focus on implement performance. Each tractor function is color-coordinated with the control that operates it, making operation simple to learn in minutes.

Operation of the 10.4-in. touch-screen terminal is intuitive, with a smartphone feel, allowing the operator to manage all tractor settings and adjustments while monitoring and controlling ISOBUS 11783-compatible implements, camera functions, field documentation, variable rate applications, guidance, wireless data transfer, AccuField Command™ headland management system, automated hitch functions, differential lock and front suspension. Operators also may navigate through the menu and data using the keys and rotary control.

Latest guidance innovations available
Operators can drive reliably and accurately in the toughest of visual conditions with AGCO's next generation of Auto-Guide™ automated steering system. Customers may choose the accuracy level and signal source to meet their specific needs, now choosing from two additional navigation providers: NovAtel and Trimble. A number of correction signals are supported, depending on the receiver, for example, EGNOS/WAAS or also RangePoint® RTX, CenterPoint® RTX, NTRIP. Existing Trimble RTK infrastructures, such as NTRIP can continue to be used. Even without a correction signal, Auto-Guide works reliably for up to 20 minutes with RTK accuracy via Trimble xFill® technology. All are enabled by AGCO's Fuse® Technologies.

A comfortable step up
Owners and operators will appreciate the new fit and finish of the spacious, comfortable cabs on the Challenger 1000 Series tractors. The cabs offer a variety of amenities from air-ride suspension to the dual-motion leather seat.

Implement performance on demand
The Challenger 1000 Series tractors' "do it all" design would not be complete without hydraulic system capabilities to match. With up to six double-acting valves at the rear, the 1000 Series offers 58 gpm and 113.5 gpm hydraulic systems to meet the demands of most any job. The unique 113.5 gpm hydraulic system is a two-pump, load-sensing system that has two independent circuits: one pump delivers 55.5 gal and a second pump 58 gal. Each pump will deliver only the oil that's needed, without reducing engine speed, to maintain overall productivity and efficiency.

"Basically, you can turn into the headland and raise an air seeder without losing pressure to the blower or having to increase engine speed," Keeney explains.

Equipped with the right MICHELIN tires for the job
The Challenger 1000 Series is exclusively equipped with two types of tires from Michelin, both offering excellent traction, pulling power and durability, to support different tractor applications. The MICHELIN® Agribib® 480/95R50 rear duals offer an industry-leading row crop solution, with a diameter of 85.6 inches and rolling circumference of 255.3 inches to transfer maximum power and torque to the ground.

For heavy draft work, the MICHELIN Axiobib® 750/75R46 IF (Increased Flexion) rear duals provide a higher power option. This model is the tallest agricultural tire in the world and the first dual RCI 50 tire in North America fitted on a serial production tractor. It features a 90-inch diameter, top speed of 40 mph, load capacity of 18,430 lbs. with lower operating pressure to minimize soil compaction, and unique bead design that avoids slippage on the rim, even in high-torque applications.

Optimized uptime with seamless connectivity
Fuse Connected Services brings a new level of optimization to professional farming operations through a combination of precision technology products and dealer services including off-season inspections, preventative maintenance, condition monitoring, training and year-round operation support. Enabled by AgCommand®, AGCO's pioneering telemetry tool with real-time alerts, Fuse Connected Services helps minimize downtime so operations run more efficiently. The Challenger 1000 Series' AccuTerminal fully integrates with AGCO's entire suite of Fuse Technologies and Fuse Connected Services.