AGCO Announces the Intended Acquisition of the Forage Division of Lely Group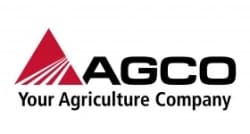 AGCO, Your Agriculture Company, (NYSE:AGCO), a worldwide manufacturer and distributor of agricultural equipment, announced today that it has reached agreement in principle to acquire the forage division of Lely Group. Lely's forage division is a leading manufacturer of balers and loader wagons in Europe. The transaction is subject to regulatory approval and is expected to close in the fourth quarter of 2017. Furthermore, the process for employee consultation will now be started.
"The integration of Lely's industry leading competence in hay and forage technology will further strengthen AGCO's full line product offering," said Martin Richenhagen, AGCO's Chairman, President and Chief Executive Officer.
SAFE HARBOR STATEMENT
Statements which are not historical facts, including expectations regarding the closing of the acquisition are forward-looking and subject to risks that could cause actual results to differ materially from those suggested by the statements. These risks include, but are not limited to, the failure to obtain regulatory approvals, the failure to satisfy closing conditions. AGCO disclaims any obligation to update any forward-looking statements except as required by law.