Agricultural Vending Machines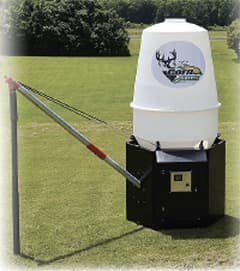 The Sportsman's Source For Wildgame Feed
Instead of selling corn and other grain to an elevator, here's a new way to sell it direct to the public without having to deal with customers. Corn Xpress™ is a giant vending machine open 24/7 that accepts cash or credit cards.
A trio of Mississippi medical professionals came up with the idea thanks to their passion for the outdoors and hunting. It was the result of a brainstorming session between Dr. James Hall and Chip Chisholm, who's a registered nurse and avid deer hunter. Chisholm noted that it would be handy to have a vending machine for corn so he could make purchases day or night. In 2011, the partners hired an engineer to design two models – one that holds 260 bushels and one that holds 340. Medical sales representative, Dan Barnes, joined the new business, bringing organizational and marketing skills.
"Our user-friendly units dispense fresh grain on demand without an attendant," Barnes says. "Our business approach is to manufacture the Corn Xpress vending machines and sell distributorships. Buyers own the machine and set prices based on local markets."
Barnes says that until now people who need to buy corn for wildlife or to feed livestock must do so within typical business hours. That's a problem with today's busy schedules. With Corn Xpress they can buy at their own convenience 24/7.
Because the vending machines eliminate middlemen, the producer nets more profit, Barnesnotes. In Mississippi, for example, corn sells at the elevator for about $3.50/bushel. Selling it through the vending machine for around $8-9 per bushel - farmers can increase gross profits per bushel. Corn Xpress is actually set up to sell by the pound in quantities of the owners preference; i.e. 30, 50, 200, 330lbs., depending on the bucket, barrel, or bags customers want filled.
An unloading auger feeds into trucks or trailers. Just a standard 120 AC volt plug and a concrete slab is required to run the vending machine, so it can be set up at any high traffic location, such as a convenience store,sporting goods store, or local co-op.
Barnes notes that Corn Xpress can also dispense other grains, pellets, and even rock salt.
Cost for the standard models are around $30,000.00, which includes setup, 1 year warranty, sales support, and maintenance. Depending on the location, return on investment averages 3 years, Barnes says.
The first two Corn Xpress agricultural vending machines were set up in Mississippi in 2014 and has expanded to over 120 machines in 16 states. Corn Xpress has added a small size standard machine that holds 176 bushels, a mobile machine, and a zoo machine. The mobile machine is the 176 bushel hopper mounted on a dual axle trailer that eliminates the need of a concrete slab and can be easily moved for refilling. The zoo machine is a 0.5 ton model that dispenses quantities of 3, 6, 12 oz (handfuls) of feed for the children feeding goats, pigs, chickens, etc. at petting zoos. Corn Xpress is ready to team up with more entrepreneurs in additional states who are looking to create additional income.
For more information, contact Dan Barnes (ph 601-573-9784); Or go to the company website at www.cornxpress.com or Facebook page.