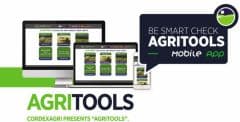 CORDEXAGRI® NEW AGRITOOLS™ APP WILL HELP YOU TO:
- Calculate your baling costs on a "cost per bale" basis
- Establish how many bales you can get out of a roll or bale of a particular product
- Cross reference recommended products by OEM baler brand, model or crop type
- New - It now includes support for silage film
- New - Available as a downloadable app for IPHONE, ANDROID or WINDOWS PHONE
As Cordex continues to innovate, aiming to offer the end user the best possible experience, Cordex has upgraded its existing AGRITOOLS™, and recently launched its fully mobile APP.
Available for IPhone, Android and Windows Mobile you will be able to download and use it wherever you need, whenever you want.
Since winter 2012 AGRITOOLS™ has helped thousands of farmers and contractors worldwide, to be as profitable as possible when baling.
This free service with no membership required, assists you with Big Square, Small Square and Round baling, both with Twine or Netwrap, and now with its brand new module for Stretch Film, by answering these main questions:
1. What is the most adequate product to use in my baler/wrapper?
2. How many bales will that product produce in my machine?
3. How much will it cost me to make that bale?
Be sure to check it and download it the Android Play Store, IPhone App Store and Windows Mobile Store.
CORDEX
www.cordexagri.com