Busy Minnesota farmstead has five Schweiss bifold doors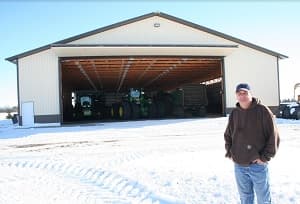 FAIRFAX, Minn., November 3, 2022 – Brian and Bruce Frank have five Schweiss Doors bifold doors in use on their two farms near Olivia and Bird Island, Minn., and they couldn't be happier with any other style of door on the market. The Franks' farm is 1,600 acres, growing corn, soybeans, sugar beets, sweetcorn, peas, navy beans and some wheat. The Franks also perform some custom sugar beet harvesting for area farmers.
Arriving at the farm, you'll immediately notice the Frank brothers take pride in their machinery and buildings – everything is sheltered, clean and in its place, ready for spring planting.
Brian said they put in their first doors during the late 1980s, not long after Schweiss started making bifold doors. They didn't even consider another manufacturer.
Those first two doors are bifold cable lift doors measuring 23 feet by 16 feet and 26-feet by 12 feet. They have manual latches that Brian says have been holding up since the day they were put on. He says he keeps them in operating order by following simple routine maintenance such as keeping them well-lubed.
His shop is a 60-foot by 100-foot 1975 Morton cold storage machine shed that was raised up four feet to accommodate a taller bifold door for additional headroom in order to accept bigger machinery. It has overhead radiant heat and is well lit. It has a 34-foot, 6-inch by 18-foot bifold liftstrap door with autolatches and a pair of 4 by 3 sliding windows.
"The Schweiss doors are pretty much maintenance free," Brian Frank says. "They're durable and solid. We had a bad storm in 2011. My shop door stood up to 90 mph or better winds. Without these doors, I think the building would have been gone. I think they saved the buildings. I have freestanding headers on all but the two older doors. The shed doesn't creak or crack when you open the doors. They're nice and solid and seal well in all types of weather."
The three newer doors all have automatic latching systems. Brian likes this feature because it eliminates the step of having to walk back and forth to unlatch them and they pull the doors in nice and tight.
"We went with bifold doors for snow and they let you park closer in front," he says. "The hydraulic doors are nice, too. I like the simple one-piece construction of them. We're sized kind of where we want to be. Although the new shed could have been built a foot or two taller to allow for a higher door, the height of the combines when you put the hopper extensions on, start to get tall."
The new cold storage shed measures 80 feet by 150 feet and has a 48-foot by 18-foot bifold liftstrap door with autolatches and a remote opener.
"A story about the remote," Brian says. "I was ¾ of a mile or more away with the planter one spring. I thought, just for the heck of it, I would click the remote, and it opened up. I was impressed with it.
"One thing about Schweiss Doors, whatever you want, you get. They're not trying to shove something down your throat. If anything, they're going to overbuild you; they're not going to under-build you. You just want to make sure your building is capable of holding your door. When this building craze was going on, there were companies putting bids on pole buildings and they weren't putting meat into that end of the building where the door was going on. If you only knew what door you're putting on your building and you are new construction, you need to make sure Schweiss and your building contractor communicate. It's very important. Schweiss has very nice manuals and guidelines that they send out. Their website is awesome, go to it first and you can start to put a lot of information together really fast."
Schweiss Doors is the premier manufacturer of hydraulic and bifold liftstrap doors. Doors are custom made to any size for any type of new or existing building for architects and builders determined to do amazing things with their buildings, including the doors. Schweiss also offers a cable to liftstrap conversion package. For more information, visit www.bifold.com.