Claas Senior Leadership Takes On New Industry Roles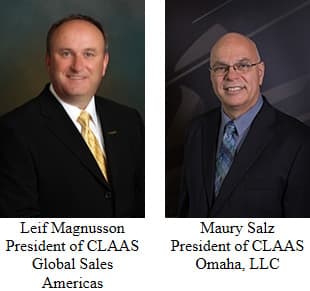 Omaha, Neb. — April 19, 2017 — Two key members of the CLAAS leadership team have recently taken on additional responsibilities in their respective industry organizations. Both are excited to assume roles that stand to positively impact the ag manufacturing sector as a whole.
President of CLAAS Global Sales Americas Leif Magnusson, who recently fulfilled his term as chair of the Association of Equipment Manufacturers (AEM), will now chair the Infrastructure Vision 2050 Task Force for the organization.
"Infrastructure is a hot topic in Washington, D.C., and an important concern, especially for those who market to and live within rural communities," explained Magnusson. "Agricultural equipment today is larger and more technologically advanced than ever before. We need roads, bridges and communication networks that support the latest innovations and high volumes of transportation that help our farmers feed the world."
The Infrastructure Vision 2050 Task Force is one of the AEM's most critical initiatives designed to encourage development and increased spending on critical infrastructure projects.
Maury Salz, president of CLAAS Omaha, LLC, oversees the manufacturing operation that produces LEXION combines for the North American market. Salz was recently selected to assume a three-year leadership role for the American Society of Agricultural and Biological Engineers (ASABE). He will take on his new role in July 2017 as president-elect, followed by a year as president beginning in July 2018 and past president beginning in July 2019.
For more than a century, the ASABE has been the professional home of engineers and others who work to find sustainable solutions for an ever-growing population. ASABE members are leaders in the production, transport, storage and use of safe and abundant food; clean water; fiber, timber and renewable sources of fuel; and life-enhancing and life-saving products from bio-based materials.
"I'm excited to become a part of the leadership team at ASABE. It is a very important community of professionals," said Salz. "We are living in an extraordinary time where important advancements can have a huge impact on a rapidly growing population. I look forward to supporting our members and influencing our industry."