The Concrete Works Featured in U.S. Rep Smith Agri-Business Tour of Missouri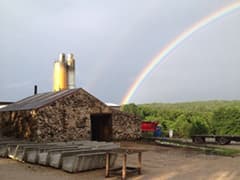 WASOLA, MO – Congressman Jason Smith stopped at Concrete Works in Ozark County to see firsthand what this unique and successful agribusiness produces. Owners Sean and Cleta Sweeney founded Concrete Works in 1990 and from humble beginnings have grown to be a major supplier of pre-cast concrete feed bunks and water tanks for the nation's livestock producers. They also operate a small organic farm to showcase their products.
"Concrete Works is an excellent example of the diversity of agribusiness in Missouri," said Congressman Smith. "This agribusiness is particularly unique because they have designed their concrete mix specifically to withstand the wear and tear that comes along with agricultural and commercial use." When asked to list some keys to the company's success, Sean answered "experience". "Experience with our product, with our vendors and with our customers for almost 3 decades.
Using our product on our own farm has helped us to fine tune a highly engineered concrete mix that combines longevity with durability. We have a type of knowledge that is uniquely beneficial to our producers: we have first hand experience in helping plan feed, water and grazing systems for multiple species. Being in business this long we have had many opportunities to work with vendors throughout the country: we know the ones who help us succeed and who model a customer service policy we can respect, and in turn we are very loyal customers. Lastly, but most importantly, our long standing relationships with our customers. We implement a policy that when someone does business with us, they will walk away with a good experience. You don't get bigger unless you are better!" Sales record have steadily grown, and the company has just completed another expansion to produce and store multiple semi loads of products, which are shipped through out the United States. The company slogan, "best price, best quality, best service" was actually developed on the testimonials of customers. With an unmatched 20 year warranty, The Concrete Works has grown through a large network of referrals and good old fashioned word of mouth. "We strive to make the best product for the best price, and to give outstanding customer service, and we love doing it" says Cleta Sweeney, Director of Marketing and Ranch management.
In addition, the staff at The Concrete Works visited with Representative Smith about government agencies who have been particularly beneficial to the growth of the company. In particular, the USDA/NRCS and the Soil & Water Conservation Program. Staff from both offices have worked many long hours consulting and assisting in grazing programs that are utilized for years now on the company's show case farm. With tools, programs and advice from these local agencies, the farm has continued growth in profits, herd and flock health, and pasture improvement. Best of all, the show case farm can demonstrate their manufactured products while also highlighting the successes of the managed grazing systems the agencies have helped produce. To find out more about The Concrete Works, you can visit their web page www.theconcreteworks.com or call 877-464-7575.
Congressman Smith has plans to stop at farms in each of the 30 counties in Missouri's Eighth Congressional District as he has done every August since he was elected. This year's focus on farms will highlight the people in our area who run these operations and the tremendous impact that agriculture has on the economy and rural way of life in southeast and south central Missouri.
Plant Pictured On A Working Day: Complete With Inventory And Rainbow!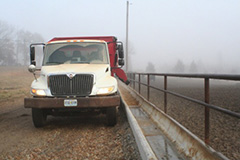 Feed System Using The Popular Line, Or Sometime Called "U" Bunk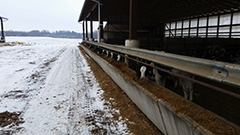 The Popular J Feeder In Northern United States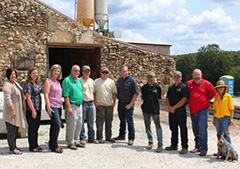 Congressman Jason Smith stopped at the Concrete Works in Souder Aug. 8 during his focus-on-farms tour. From left: Town & Country Bank representatives Robin Allen and Gail Huffman, Heather Kamps of Jason Smith's West Plains office, Concrete Works owner Sean Sweeney, employees Corbin McCarroll and Zack Brookover, Jason Smith, employees Bobbie Rowan and Shane Olmstead, State Rep. (154th District) Shawn Rhoades, Concrete Works owner Cleta Sweeney with Cinch, the cow-sheep dog. Not present for the photo: employees Megan Smith and Sherri Doane.
THE CONCRETE WORKS
417.265.3504 // www.theconcreteworks.com