Dealers Turning 170 Years of Pride and Tradition into Local Success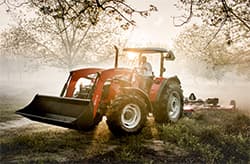 Massey Ferguson is one of the oldest and more revered brands in the world. Massey owners' passion for our products goes back generations. It's a legacy in which we take great pride. And one we take very seriously as we expand and strengthen our dealer network. After all, dealers are the face of our brand.
A flagship brand of AGCO, Massey Ferguson has been the world's leading tractor brand for more than five decades. Today, just about every tractor on the planet is based in some way on technology pioneered by Daniel Massey and Harry Ferguson. For instance, in 1926, we introduced the first three-point hitch. From tractors to combines, swathers to balers, Massey Ferguson provides your customers the most durable and reliable machines for their jobs — whether around the farm, on the greens or right in their backyard.

OUR SUPPORT NETWORK MAKES WORKING WITH US LESS WORK
We translate our long history of agriculture into superior dealer support. We, along with our dealers, have the desire, professionalism, knowledge and connection to the community to bring the very best in agriculture equipment to the local market. How do we do this?
• Industry-Leading Rural Lifestyle Equipment
• AGCO Parts & Accessories
• AGCO Service
• Sales and Marketing
• Orders and Inventory
• Parts and Service Support
• Dealer Systems Support
• Dealer Training
• Dealer Development
• AGCO Finance
HITCH UP TO A LEADER
From sub-compact, utility and row crop tractors to combines and implements, Massey Ferguson brings an innate knowledge of the land, the farm and the equipment farmers want for today's changing needs. We bring a world of experience — and 170 years of heritage — to help get the job done right.
Are you interested in being part of our success? Visit
MasseyFerguson.us/sales-and-support/dealer-opportunities.html