Discount Hydraulic Hose Is The Leading E-Commerce Supplier Of Hydraulic Hose And Fittings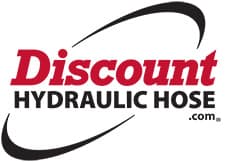 In addition, they can handle all of your custom hose assembly needs. Whether its a blown line on your tractor or if you'd like to have a few spare lines for your combine, their professional staff are ready to prepare a custom hose assembly to your specifications.
With an unbeatable inventory of hydraulic hoses and fittings their expert technicians are able to make hoses from 1/4"-2" with any combination of fittings, whether it be, pipe thread, JIC, BSPP or metric. They also offer several types of hose protection too. They are now happy to introduce custom labeling. The self adhesive labels include the order number, date, type of hose and it clearly identifies the hose ends. Save a trip into town and in most instances save over 50% on your hoses by going to www.discounthydraulichose.com and have your order shipped straight to your door.