Faster, Easier Farm Fence Installation with the New Gas Powered Minuteman Post Drive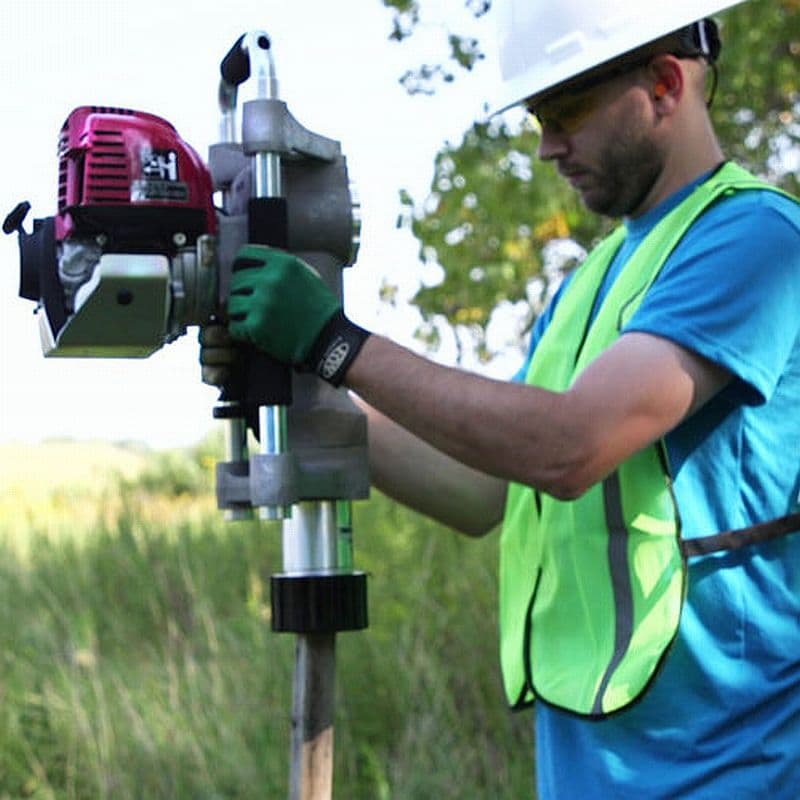 Put up fence in half the time of Manual Post Drivers
KEWANEE – Minuteman Marketing a Subsidiary of Rhino Tool® Company, has launched a new gas powered post driver product line designed for farmers and ranchers. The Minuteman and Minuteman XL8 are compact, super durable, hand-held tools, for driving a variety of fence posts safely and efficiently.
The Minuteman FH – Fixed Handle makes quick work installing miles of t-posts for livestock, a few poles for a floating dock, chain-link fence for security, or ground rod for electric fencing.
Powered by a 4-stroke gas engine, the MinutemanTM FH design drives post up to 2" (51mm) in diameter. The post driver includes two patented Adapter's 1" (25 mm) and 1.75" (44 mm) to properly align posts and expedite installation.
The Minuteman XL8– Extended Handle's rotating handle design allows for driving taller posts, without the need for a ladder, keeping the user safely on the ground. Also powered by a 4-stroke gas engine, the Minuteman XL8 drives metal and wood posts up to 3" (76 mm) in diameter, as well as t-posts. The driver can be operated with the handle in the up or down position, saving time and energy by not moving a ladder from post-to-post. Unlike traditional methods for installing fence posts, Minuteman post
drivers do not require pre-digging a hole, pouring cement or the brutally slow pounding necessary with hand-held pipe style post drivers. The ability to drive posts below the frost line also allows posts to withstand frost-heaving that can occur with cemented posts in Northern climates, and posts can be driven in frozen ground.
Jim Martin, President of Rhino Tool, foresaw a need to expand the accessibility of these tools beyond the professional market "The Minuteman continues the mission started by Rhino Tool in 1975, to provide a safer, easier way to install posts and to meet the driving challenges of professional installers, and now residential customers, with superior product support and innovation."