Gift Ideas for Your Favorite Farmer (#1)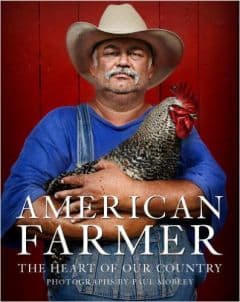 If you need gift ideas for the farmer, rancher or rural person in your life, we can help. From time to time, we'll recommend useful, interesting items that we've stumbled across. These items might be worth a look for your favorite hard-to-buy-for, hard-working country cultivator.
American Farmer: The Heart of Our Country hardcover book ($35)
When photographer Paul Mobley set out to capture the soul of America's farming communities, he discovered a culture defined by tradition, integrity and hard work. Traveling across the country, Mobley was welcomed into the homes of more than 100 farming families, who graciously shared their stories. The result is a stunning series of portraits and stories that chronicle the life of the American farmer.
Grillaholics Stuffed Burger Press ($15)
The Grillaholics Stuffed Burger Press is the perfect grilling accessory to help you make delicious, perfectly proportioned burgers every time. The press will help you jazz up your burgers with any toppings you'd like—bacon, onions, peppers, or even mac and cheese. Cleanup is easy with the dishwasher-safe press made from durable BPA-free nonstick plastic.
The Dirty Life hardcover book ($19)
New York City-based writer Kirstin Kimball interviewed a farmer for a story and became smitten. She left the city and moved to a 500-acre farm near Lake Champlain to start a new farm and life with him. The Dirty Life is the captivating chronicle of their first year on Essex Farm. "As much as you transform the land by farming, farming transforms you," she writes.
Yimby Tumbler Composter ($85)
Turn your kitchen scraps into soil-enhancing compost with this dual-chamber tumbling composter. Fill one side of the chamber while the other side cures. Just load it up, close the sliding door and use the convenient built-in hand holds to turn it every couple days. The Yimby produces finished compost in weeks.
Ambient Weather WS-1400-IP OBSERVER Solar-Powered Wireless Internet Remote Monitoring Weather Station ($160)
Be your own meteorologist with the solar-powered WS-1400-IP Observer Weather Station. It wirelessly measures wind speed and direction, indoor and outdoor temperature, humidity, rainfall, and UV and solar radiation. Your specific weather details can be displayed on your networked computer or mobile device. You can even have them sent to Wunderground.com, the world's largest weather station network.
Prices accurate at time of publication