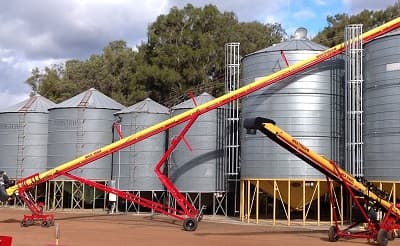 AUGERS THAT FIT THE FARM - The latest grain augers offer increase productivity and durabililty.
Massey Harris employee Peter Pakosh invented the grain auger in 1945 in the basement of his Toronto home and completed a prototype in 1946. Massey rejected his idea so he started his own company, Hydraulic Engineering. Since then, grain auger technology has continued to be refined and perfected for more efficient ways to move grain into storage. We took a look at some of the latest auger models from the top manufacturers and their key features.
WESTFIELD
For over 65 years, Westfield has been making some of the best augers available. The MKX Series is no exception and
features over 75 proven performance enhancements, focusing on advanced ease-of-use, serviceability and maximum capacity. The MKX Series is available in 10", 13" and 16" tube diameters with lengths from 53' to 125' and capacity up to 23,000 bph. For added convenience, the GULP2 is available for the MKX 130. The GULP2 transports with the MKX 130 auger, no disassembly required, and features a low profile drive over height of just 4.5", a large catchment area and a hydraulically controlled power swing. The GULP2 is designed to match the auger capacity making it the most efficient grain auger on your farm.
866.467.7207
www.grainaugers.com
CONVENTIONAL AUGERS – HEAVY DUTY GRAIN AUGER - MERIDIAN MFG
There's nothing conventional about our Conventional augers. They're constructed as durable, versatile pieces of

equipment that can handle almost any situation. Its frame design allows for better weight distribution and increased stability while reliable, heavyduty parts deliver unparalleled performance. In fact, when you compare these farm augers with the competition, they're about as unconventional and industry leading as you can get.

800.437.2334
www.meridianmfg.com
WHEATHEART
Wheatheart is committed to providing farmers with strong, long-lasting equipment. Wheatheart's X Series Augers feature over 75 proven performance enhancements. With a precision engineered, commercial strength, scissor lift frame and a redesigned hopper, the X Series offers unmatched serviceability and X-treme durability. The X Series is available in 10", 13" and 16" tube diameters with lengths from 63' to 125' and capacity up to 23,000 bph.

866.467.7207
www.wheatheart.com
ART'S WAY
The Art's Way auger line includes drive-line models featuring top-driveengineering and rolling-hopper
models powered by internal drives. The company's augers are built for strength, durability and longevity. Rollinghopper augers are constructed from 12-gauge tube and ¼-in. flighting. They are double flighted in high-wear areas in the hopper and drive section for added strength and feature internal drive with externally mounted
gearboxes for proper venting and simplified maintenance. The CV power shaft with shear clutch provides a smooth drive and overload protection.
712.864.3131
www.artsway-mfg.com
HARVEST INTERNATIONAL
Harvest International's latest high-efficiency 10- and 13-in. H-XT Series swing-away augers are stronger, more
streamlined, safer to operate and easier to service than ever before, according to the company. The series is constructed with 12-gauge tubing and includes doubletapered bearings at the discharge to handle both radial and axial loads.
Other features include iron-edge flighting throughout, standard highway-rated tires and rims, powder coat plus, hydraulic scissor lift, fast-access flighting port and double chain coupler. Models range from 64 to 114 ft.
888.218.5373
www.harvest-international.com
FARM KING
Farm King has been manufacturing BackSaver augers for more than four decades. The same principles used back then still apply today when choosing materials that go into every auger, grade A steel and functional design. Models
range in lengths of 50 to 114 feet accompanied by 10, 13 and 16-inch tube sizes. A bridge-like support system allows the auger tubing and flighting to remain stable at all times including raising and lower of the auger. The hydraulic scissor
lift resurrects the auger in virtually no time at all. When the spout is in the desired location, a safety hydraulic ball valve can be adjusted to ensure the augers stays when and where you want even in unpredictable weather. The recommended
horsepower for peak operation ranges from 40-175 depending on auger size.
With 10", 13" and 16" diameter tubing by up to 114' length, the operator is able to move large quantities of grain in short periods of time. Transporting the auger has never been easier with a maximum transport height of 15'.

204.661.8711
www.farm-king.com
BRANDT
Brandt Agricultural Products Ltd.'s latest lineup of swing-away augers feature capacities of up to 23,000 bph
and come in sizes of 10, 13 and 16 in. The newly reengineered units are more efficient than ever before,
incorporating booster flights in conjunction with enhancements to hopper flight, transition and boot designs, resulting in capacity increases of up to 22%, according to the company.

866.427.2638
www.brandt.ca
---
HUTCHISON-MAYRATH
Hutchinson-Mayrath, a division of Global Industries, offers top-drive, inline and swing-away augers.
The swing-away line features 8-, 10- and 13-in. options along with a couple of standard PTO drive or side
drive. The series comes standard with 12-gauge tube and ¼-in. flighting for durability and longevity.
Hydraulic winch kits and wheel kits are also available to simplify moving and lifting the swing-away hoppers.
The augers are available in either galvanized or powder coat red finishes.
800.523.6993
www.hutchison-mayrath.com
---
PECK MFG.
The Peck model 1003 direct-drive TAD auger is available in lengths from 56 to 71 ft. To decrease maintenance
costs, the augers offer direct hookups, which eliminate the gearbox and other drive parts. A short telescoping driveline connects directly to the tractor PTO shaft and to the lower end of the flighting and offers a constant-velocity universal
joint for smooth operation at any angle.
A reliable hydraulic motor at the upper end of the swinging hopper drives the flighting. A vertical frame hinges 2 ft. ahead of the axle to allow for a greater reach over the bin eaves.
800.927.7572
www.peckmanufacturing.com
---
KSi CONVEYORS
KSi's most popular bin fill conveyor features KSi's patented, cleated belt and a convenient, attached Swingaway
inlet hopper. Built to meet the material handling needs of high-value seed, grain and other commodities, the KSi Model 1612 Bin Fill Conveyor features KSi's patented, cleated belt in the main conveyor tube and a convenient,
attached Swingaway inlet hopper that tows on the side during transport.
888.574.3277
www.ksiconveyors.com