Guide to Ag Lighting & Marking Standard Now Available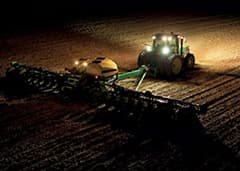 An illustrative guide to the Lighting and Marking Standard for Agricultural Equipment, ASABE S279.17A, has been developed by a group of AEM member experts. The new guide provides an easy-to-understand visual representation of the standard's requirements.
"This guide is intended to help interested stakeholders understand and navigate the requirements of the lighting and marking standard that can be difficult to interpret, particularly for those who do not routinely read and apply standards or participate in the standards development process," said Mike Pankonin, AEM senior director, technical and safety services. "Target audiences span all potential stakeholders, including manufacturers, law enforcement and equipment owners. The graphic representation of the standard included in the guide helps to provide a common understanding given the old adage that 'a picture is worth a thousand words.'"
The 12-page document provides graphic representations of the front and rear of multiple equipment forms, including agricultural tractors, agricultural sprayers, harvesters, and mounted and towed equipment. Separate views illustrate equipment wider than 12 feet and narrower than 12 feet. To promote this work across the industry, the following steps are planned:
AEM will host a webinar to promote this work to all stakeholders

The webinar will be presented by an industry expert
The webinar is planned for late April or early May depending on speaker availability (TBA)
Promotions will be extended to law enforcement, Ag extensions, Ag safety NGOs, and Ag equipment association members
The free webinar will be recorded and archived at AEM.org

The illustrative guide will be available after the webinar through the AEM Safety Materials Store
The guide will be included as part of the formal ASABE standard, which will be re-numbered S279.18. This work should be completed mid-year.
For more information, contact Michael Pankonin, AEM senior director, technical and safety services mpankonin@aem.org • tel: 414-298-4128.