Heatmaster SS Unveils New GS-Series Wood Burning Furnace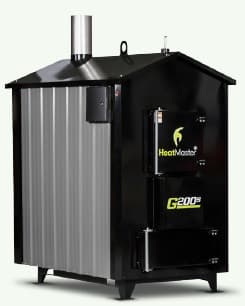 The wood burning furnace market has a new contender and this one comes with an impressive introductory price of just $6995 USD.
Heatmaster ss has introduced the GS Series outdoor furnace made from the same materials and with the same time-tested design as their top rated line of G Series furnaces, but with a lower price-point.
General Manager Ryan Friesen says, "We are very excited to offer the GS Series. Our customers demand high quality, long lasting products to ensure many years of money savings. Heatmaster ss furnaces are easy to use and maintain while being the most economically priced products on the market. We think this will be a game changer for our customers and the industry."
The GS Series furnaces follow the line of the very popular G Series made by Heatmaster ss and meet all safety and emissions standards for wood burning while maintaining best in industry efficiencies. They come in three sizes, with the ability to heat a home, shop, barns, etc as well as domestic hot water, pools and hot tubs. These furnaces are made from 409 stainless steel and come with an industry best Lifetime Limited Warranty.
Heatmaster ss is based in Winkler, Manitoba, Canada and first entered the outdoor wood furnace scene in 2001. Their model line up includes the G series indoor/outdoor furnaces, the MF Multi-fuel series, and C series. Heatmaster ss offers the longest lasting and easiest-to-use furnaces on the market along with unmatched customer service and support.
HEATMASTER
877.325.9792
www.heatmasterss.com