Indiana Corn, Soybean Farmers Support New Plant Phenotyping Facility at Purdue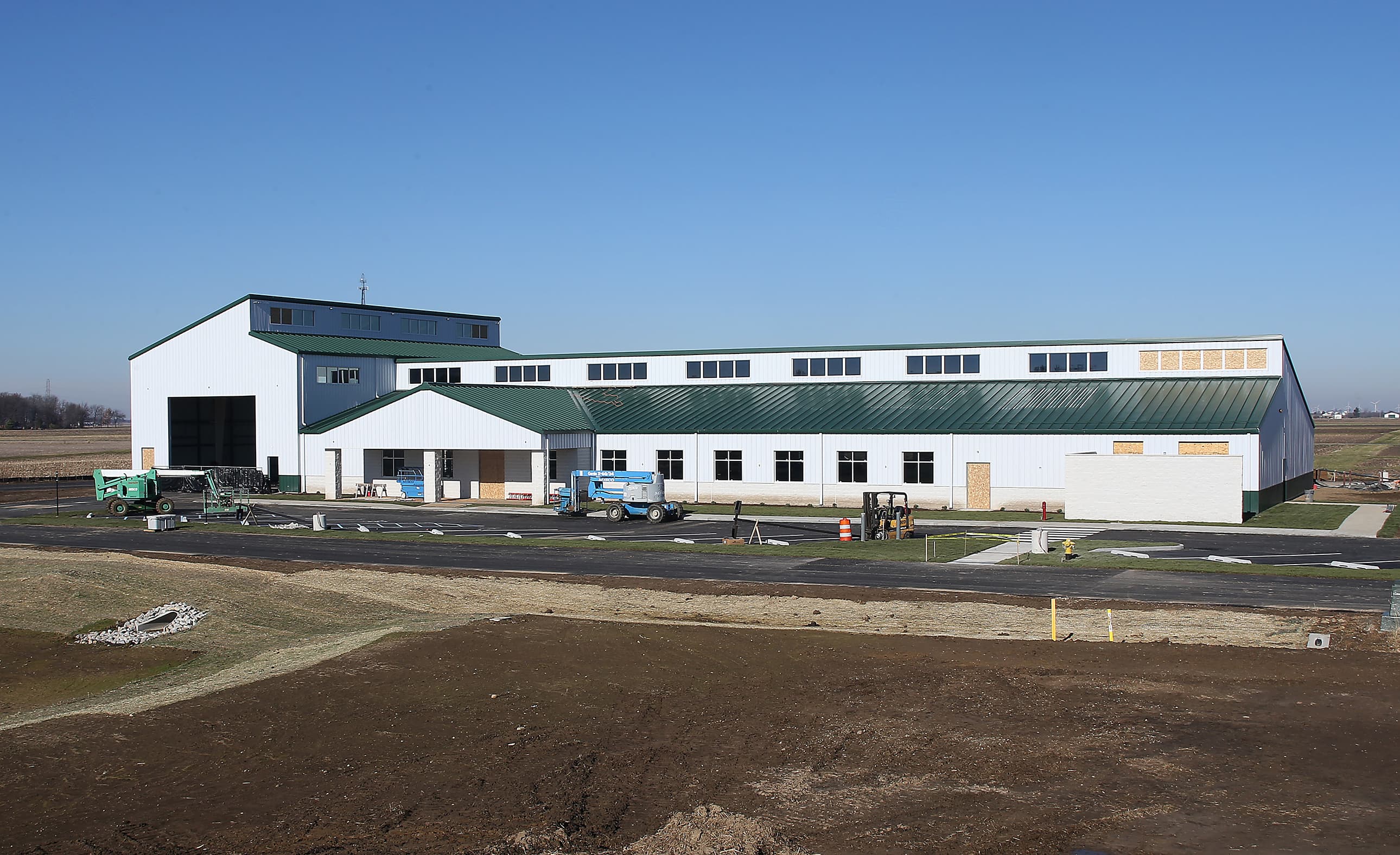 Two groups representing Indiana corn and soybean farmers are making a $4 million investment in automated plant phenotyping research and education to further Purdue University's innovative work in plant sciences.
The Indiana Soybean Alliance will provide $1 million in soybean checkoff funds to buy equipment for the new automated plant phenotyping facility at the Purdue Agronomy Center for Research and Education, and the Indiana Corn Marketing Council will provide the same amount in corn checkoff funds to support the facility's construction. An additional $1 million from each organization will be placed into two endowments to fund in perpetuity corn and soybean research related to plant phenotyping and technology innovation.
The support for plant phenotyping - identifying and measuring plant characteristics - was announced Monday (Dec. 7) at a celebration event at ACRE. The facility, now under construction, is scheduled to open next spring.
The plant sciences initiative is a component of Purdue Moves, a series of university initiatives announced by President Mitch Daniels in 2013 to broaden Purdue's global impact and enhance educational opportunities for its students.
"The commitment that Indiana's corn and soybean farmers have shown through these two organizations supports a facility that is a fundamental part of the university's long-term strategy to advance research and education in plant sciences," Daniels said. "It will help both today's and tomorrow's scientists at Purdue discover more ways to help the world meet an increasing demand for food as the population grows rapidly."
The objective of the two organizations' checkoff investments is to improve corn and soybean yields using big data and advanced technology to enhance sustainable production practices while keeping Indiana farmers competitive in the global market. Farmers will benefit from path-breaking research at the phenotyping facility.
The facility, to be the only one of its kind at a U.S. university, will serve as a catalyst and hub, bringing together multidisciplinary teams of faculty and students to develop innovative technologies in agriculture. Phenomics data on crops grown at the agronomy center will be gathered from high-tech equipment above, on and under the ground and transferred by fiber-optic cable to the university's high-performance computing facilities for analysis.
Researchers will assess the physical characteristics of plants so farmers can adapt crop production practices to enhance sustainability and improve crop productivity and nutritional attributes.
David Lowe, president of Indiana Soybean Alliance and a farmer from Dunkirk, said the investment reflects the group's successful involvement with Purdue over the last 20-plus years of the soybean checkoff.
"This project is an opportunity to continue that partnership and for our farmers to be on the forefront of research that can help develop technology that will move agriculture forward," he said.
Dennis Maple, president of Indiana Corn Marketing Council and a farmer from Greentown, said the project is exciting not only because of the long-term benefits that the research will bring to the group's operations and industry but also because of the number of students who will be reached through the facility.
"We need the best scientists working on corn and soybean issues today and into the future, and our investment at Purdue will ensure that this happens," he said.
Karen Plaut, senior associate dean for research and faculty affairs in the College of Agriculture, said the investments of the two groups "will help Purdue apply state-of-the-art technology and data analysis to enhance decision-making abilities and increase profitability for farmers."
"We're excited about what this partnership will bring to the agriculture industry," she said.
Writer: Keith Robinson, 765-494-2722, robins89@purdue.edu