Kasco Offers New Seeder with Metering System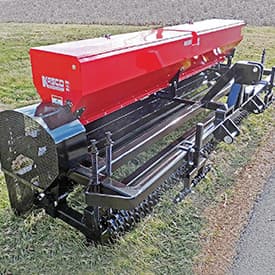 Kasco Manufacturing, based in Shelbyville, Ind., has released a new agricultural seeder in 8-ft. or 10-ft. working widths with high capacity seed hoppers. Ideal for alfalfa producers, pasture renovations and grass seeding, the new seeder utilizes Kasco's Precision Seed Metering System for less seed waste.
Other features include two rows of cast-iron press wheels to ensure good seed-to-soil contact and extra leveling action, meters that adapt for a variety of seed sizes and a standard agitator for consistent seed mixture.
Kasco Manufacturing / (800) 458-9129 / www.kascomfg.com