Kubota's Latest Round Baler Designed for Dairy, Cattle Producers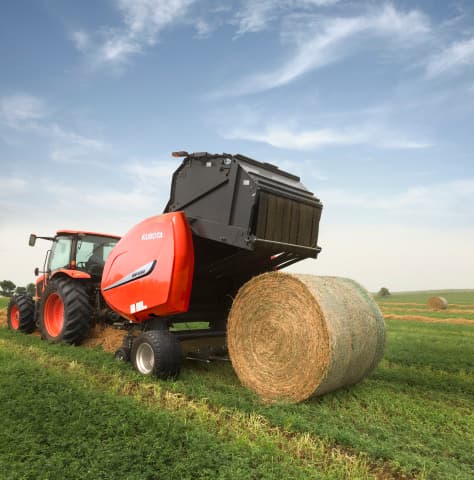 Kubota Tractor Corporation has released a new BV4580 round baler, the highest capacity baler of Kubota's round baler line. The BV4580 offers 5 ft. by 6 ft. variable-diameter bales preferred by cow-calf and dairy producers.
The BV4580 features an easy-feed design system that manages high volumes of crop with an easy flow of materials into the baler, producing a dense, well-formed bale every time. Combined with the power bind net system, Kubota's BV4580 is one of the most productive five-by-six variable chamber balers on the market today.
The new BV4580 round baler features a clean-raking 82in. wide pickup, designed to deliver high crop volumes into the full-width rotary feeding system. The BV4580 forms bales 61-in. wide, with diameters from 31-in. to 71-in. The pickup's twin cam track supports minimize the crop load on the baler's five tine bars, providing operators with reliability and high-volume baling performance.
The BV4580 easy-feed system efficiently handles the baler's large forage intake capacity, maintaining consistent crop flow even in delicate crops like Bermuda and alfalfa. The recently patented PowerBind net system, featuring a low loading height and fast cycle time, continues the design focus on productivity and reliability for BV4580 operators.
Round bales in the BV4580 bale chamber are crafted with moderate cores and stronger exteriors for better bale weathering. The baler's high-quality parts, including durable MRT profile belts with heavy-duty MATO lacings, ensure trouble-free and reliable operation. Fully-adjustable hydraulic bale density control is standard on the BV4580.
An optional proportional valve is available for electronic bale density control from the new Focus 3 Terminal that provides operators control of bale diameter settings, as well as auto or manual net and twine binding modes. An electronic bale counting system monitors both daily and total bale counts.
For more information, visit www.kubota.com