Look at Delmhorst Moisture Meters for Accuracy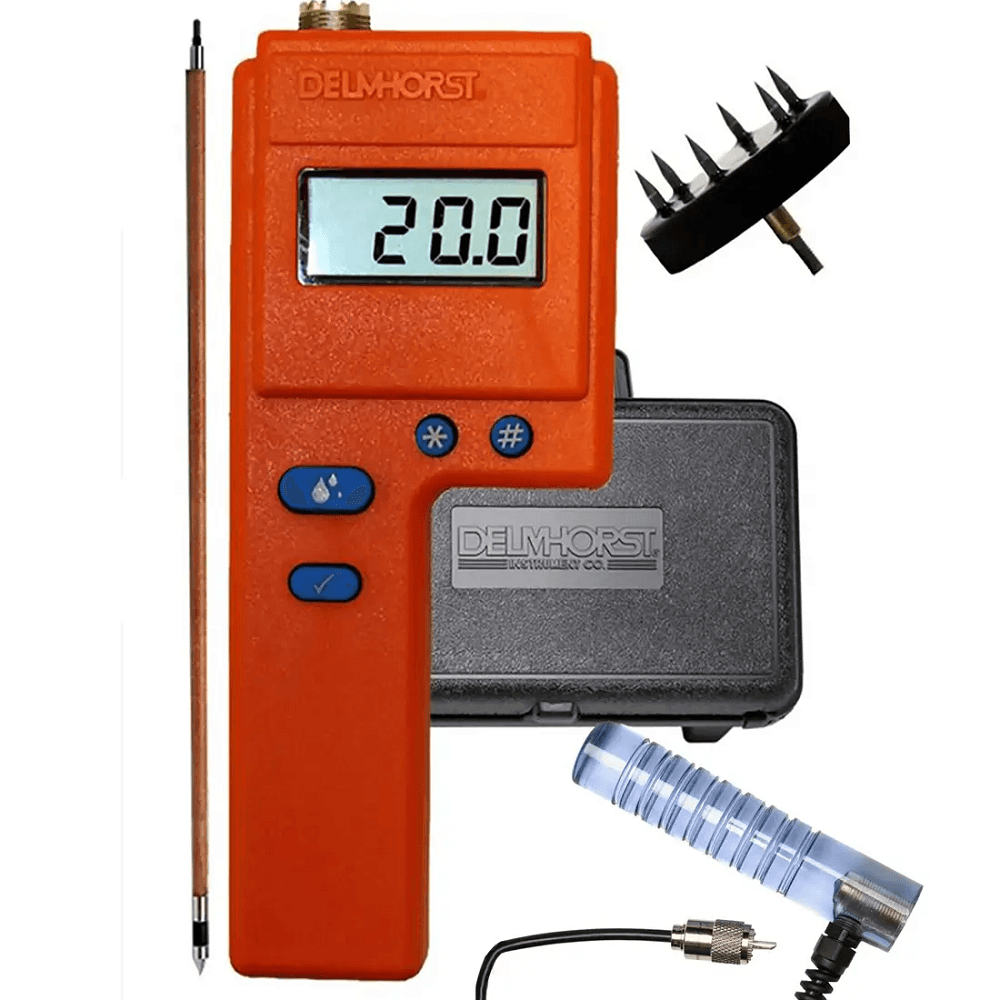 Delmhorst Instrument Co. is a 2nd generation family-owned business that has been manufacturing mois-ture meters for agriculture and the building trades/lumber industries for over 75 years. Our products are known world-wide and have been accepted by the major schools of ag-riculture and forestry. They are prov-en for ruggedness and accuracy and will provide many years of reliability.
Monitoring the moisture content of hay helps to preserve leaves, color, and feed value, and reduces the pos-sibility of mold development while in storage. When harvest time comes, Delmhorst probe-type meters are proven, essential tools that are a critical component to ensuring high quality hay. The FX-20 and FX-30 are the latest in the new Navigator family of moisture meters from Delmhorst. Uniquely designed for use in the field with a dashboard-like display that is easy to read under most conditions, and large, easy to use navigation buttons.
The FX-20 Hay meter is perfect for large and small volume producers to ensure reli-able %MC readings in the windrow or in all size bale packages. The FX-20 can be used with various existing Delmhorst hay prods a n d accessories. The FX-30 mult i - pu r pos e meter features the Delmhorst EDGE™ app with customiz-able settings and user-selectable calibrations for hay, hops, hemp, brazil nuts, tobacco and dates. The popular model F-2000 hand-held meter uses a 9v battery and offers easy to use controls, and a sharp digital dis play even in bright sunlight. For high vol-ume producers who need the time-saving convenience of on-the-go monitoring, the FX-2000 adds the ability to check hay mois-ture during baling, without even leaving the tractor. It is powered by the tractor's 12V system as well as a 9v battery for portable use.
The F-2000 and FX-2000 hay testers are covered by a 3-year warranty. Whether in the windrow, while baling, or in storage, Delmhorst meters measure hay moisture every step of the way with speed, accuracy, and reliability. Prods are available for the windrow, small and large square bales, and round bales too. Delmhorst also produces moisture meters for cotton, soil, grain, as well as a tem-perature measuring probe system. For more information on Delmhorst's full line of moisture meters and accessories visit our website.