Max Systems Combination Delivers A Fatal Blow To Weeds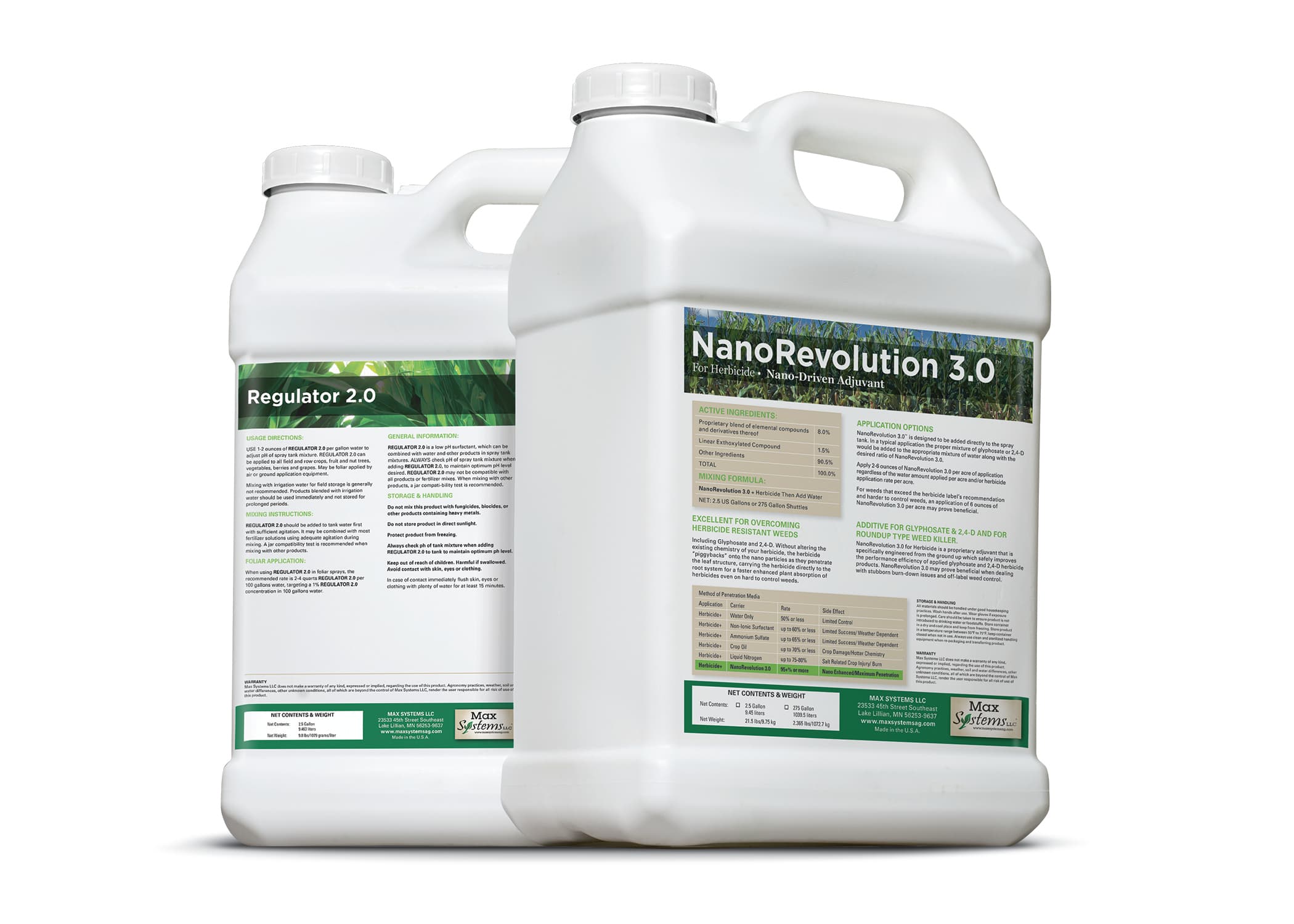 Mathematics may state that one plus one equals two, but when Regulator 2.0 and NanoRevolution 3.0 — both new products from Max Systems LLC — are added together in a crop protection tank mix, it becomes multiplication. In this case, one-plus-one has resulted in high percentage weed kills … even on some of nature's toughest species.
Used by itself, Regulator 2.0 has proven to be an effective low pH surfactant that enhances herbicide burn down and delivers molecular oxygen to the plants, while lowering the pH of a wide range of spray tank solutions.
"Unlike other pH lowering products, though, Regulator 2.0 does not use salts, but, instead, is a carbon-based surfactant that contains high amounts of energy and oxygen," says Douglas Stengel, co-owner and business partner in Max Systems LLC. "As a result, the carbon that we use as a carrier moves through the plant much easier than the salts that serve as a base for most other surfactants, adjuvants and herbicides."
However, Regulator 2.0 has proven to be even more effective when combined in a tank mix with NanoRevolution 3.0. When tank mixed with the leading herbicides at a rate of two to six ounces per acre (based on the type of chemical), NanoRevolution 3.0 can carry the accompanying herbicide into the plant in as little as 30 to 40 seconds, delivering a fatal dose to weeds in record time. In effect, the herbicide binds with nano-sized particles that can immediately penetrate through the plant's capillary surface membrane and carry the active components throughout the plant's circulatory system.
"Farmers often assume that tough-to-control weeds have built up resistance to herbicides," Stengel says. "And that may be true to a point, as plants build up amino acids, much like plaque in a human's arteries. As a result, salt-based herbicides can have a hard time getting though plant passages. However, when we combine a carbon-based surfactant with microscopic herbicide particles that easily get past those blockages, we're seeing the highest and most consistent weed kill rates yet."
"In effect, the Regulator 2.0 conditions the water, while the NanoRevolution 3.0 conditions the herbicide," he concludes. "Together, they deliver a one-two punch that most weeds simply can't survive."
For more information on Regulator 2.0, NanoRevolution 3.0 or other products from Max Systems LLC, visit http://www.maxsystemsag.com or call 320-212-5925.