Measure's First Drone Services Franchise Opens in Illinois Largest aerial data solution provider in U.S. expands footprint to provide localized service
SPRINGFIELD, IL (September 18, 2017) – Measure, the largest U.S. provider of drone services for enterprise customers, today announced its first franchise location with the September 25 grand opening of Measure Springfield in Illinois. The new office provides local, face-to-face service for businesses in Central Illinois that are interested in using aerial data collection to improve productivity, control costs and increase workplace safety.
The franchise's primary focus is on the telecommunications, construction, energy and agriculture sectors. Capabilities range from inspecting cell tower, wind farm and solar farm infrastructure to surveying construction sites, monitoring construction project progress, and assessing crop yields, irrigation problems and pest infestations for precision agriculture. Aerial imagery for commercial real estate, insurance, media and disaster response applications is also available.
All services enable customers to take advantage of the efficiencies and insights of drone technology without the time, expense and experienced personnel required to manage their own drone programs.
National Expertise, Local Delivery Measure Springfield offers turnkey, industry-specific solutions that combine best-in-class drone technology with professional drone pilots, data collection, data processing and easy-to-understand reporting. Developed by Measure's corporate team and proven through thousands of completed flights, all solutions are standardized to ensure safe, legal and insured flights as well as accurate data capture that can help customers pinpoint operational problems and make critical business decisions.
Franchise owner Troy Reiser is a Springfield native, experienced commercial pilot and former CEO of a South Africa-based airline specializing in air shuttle routes and private air charters to luxury game lodges in Southern and East Africa. His wife and co-owner Jackie Reiser is a marketing specialist and fellow Southern Illinois University graduate whose background includes 18 years with Unilever PLC as well as a role in developing a branding campaign to promote South Africa.
Chief pilot Bryan Alexander is a U.S. Air Force veteran who began flying unmanned aerial systems as a contractor for the U.S. Navy in 2012 and has focused on commercial drones since the birth of the drone services industry three years ago.
"The drone services business is exploding, and partnering with Measure gives us the backing of a national team that has not only helped establish the industry but also has the confidence of customers like Verizon, ARCO Construction and global energy company AES. It also equips us with full-service solutions from flight planning to data analysis that no other drone company in the state can provide," said Troy Reiser. "We are already providing cell tower inspections and close-out audits for national tower owners, and we have everything we need – from the aircraft to the personnel and procedures – to service customers in other sectors."
"Our franchising program is designed to build a nationwide drone services network that can provide efficient, quality aerial data collection to clients anywhere in the country while also ensuring adherence to strict operations, maintenance and safety criteria," said Dan Rothfeld, Measure Senior Vice President of Franchising. "With the Reisers' aviation and business backgrounds as well as Bryan's commercial drone credentials, Measure Springfield will be a strong link in the chain we're building to advance the use of drone technology in the business world."
To reserve your spot at the Grand Opening, please contact Jackie Reiser at 217-679-5742 or email her at jreiser@measurenationwide.com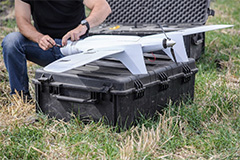 3 Reasons Why Measure is a Top Veteran Franchise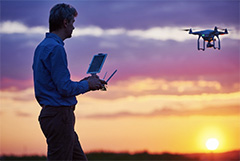 How to Start a Drone Business
MEASURE
1.202.793.3052 // www.theconcreteworks.com