Merlo Multifarmer-Agriculture'S Cross-Over Vehicle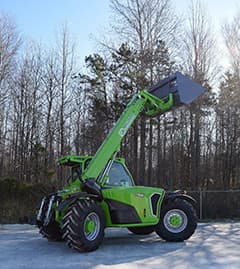 Rock Hill, SC – Of the four telehandler classes Merlo offers the agriculture industry – Compact, Turbofarmer, Panoramic and Multifarmer—it's the Multifarmer that is agriculture's cross-over vehicle.
Merlo's Multifarmer models combine the benefits of a heavy duty telehandler —with a boom capable of handling 8,818 lbs. at 28'10" lift height and 2,204 lbs. at 18'8" reach—with excellence in conventional tractor applications. The 3-point linkage, electronic PTO and 20-ton towing hook with hydraulic distributors come standard and are designed to accept any implement used by conventional tractors, having the same power, for soil preparation and haulage operations.
Merlo Multifarmer comes standard with: frame leveling, CDC Dynamic Load Control system, hydraulic load sensing pump, multi-functional armrest and CVtronic transmission.
This model year, Merlo rolled out a modular cab design that builds upon the already best-in-class features: largest cab within its market, with the wide easy access doorway; and the hydro-pneumatic suspension package for exceptional operator comfort. The new cab design enhances the optimal 360-degree operator visibility with the "Merlo Sky-View" curved windshield. This ensures maximum visibility of the load even when the boom is fully extended.
Merlo engineers created a more automotive feel to the cab with these other redesigns: the dashboard which offers better ergonomic access to the machine controls and, the air conditioning system. The real estate on the door side of the cab now holds anti-pollen filters. The eight vent system brings better quantity and quality airflow to the cab. Plus, Multifarmers are equipped with a "Fan Drive" system that changes fan rotation from suction to blowing to clear air clogging debris. Multifarmers accept many attachments, such as buckets, forks, clamps, grippers, hooks and platforms, and are also ground engaging. Along with all the standard features, options are available that can make the Merlo Multifarmer even more compatible with your specific application.
Applied Machinery Sales offers world-class Merlo telehandlers — in the 5,500 to 26,500 lb. class with heights ranging from 19 to 96 feet— to the USA market. Merlo is well known for supreme innovation and technology, and manufactures one of the best engineered, and performing, lines of telehandlers. Merlo's versatile machines deliver superior performance, safety, comfort and efficiency across all industries.
AMS has new and used Merlo telehandlers for sale. It also offers rental, dealership and financing opportunities. Contact us: 803-327-4949, info@appliedmach.com • web: ams-merlo.com