New AGCO Challenger 1000 Series Tractors to Offer Michelin Ag Tires as OE Option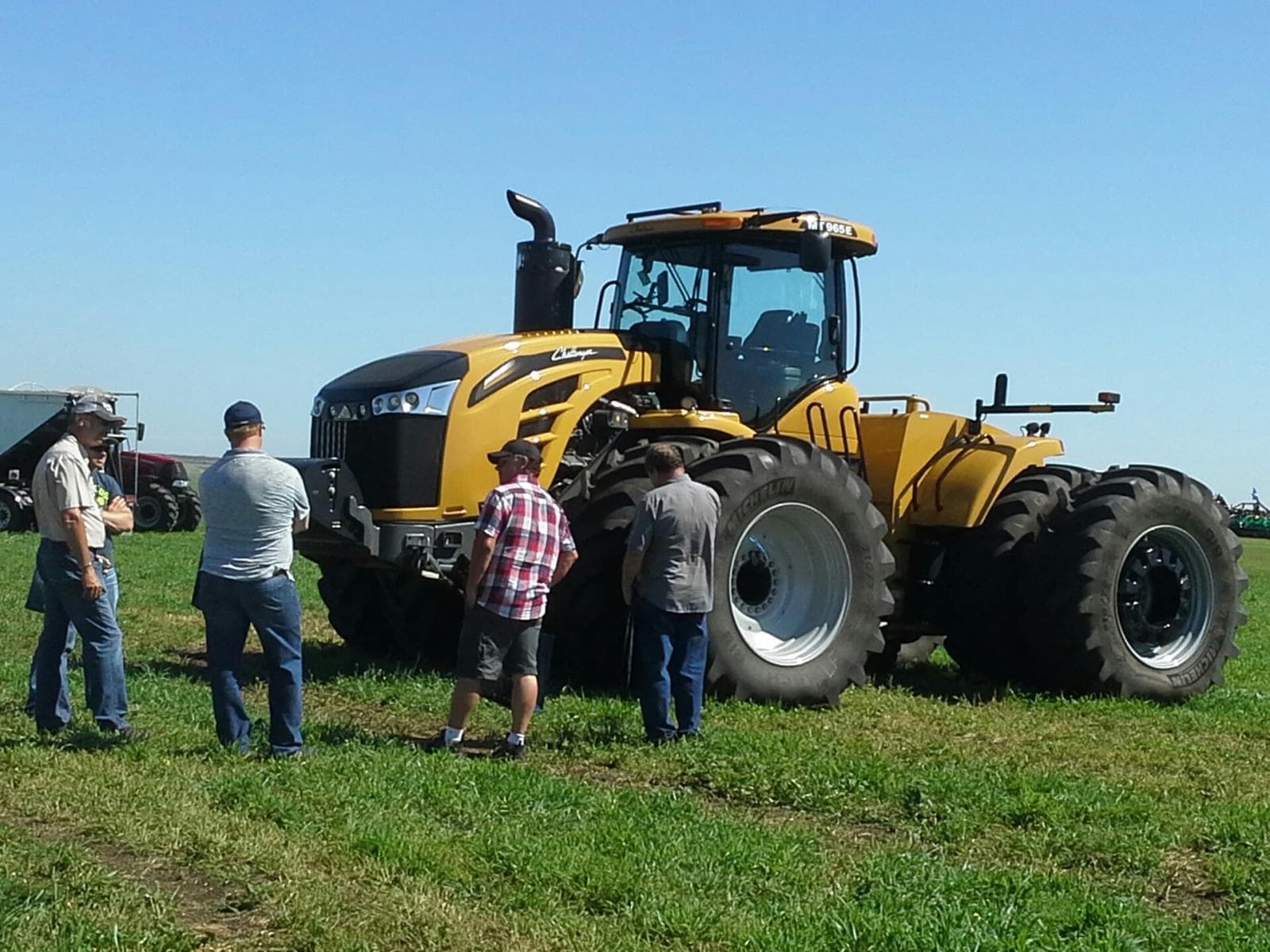 At the Farm Progress Show being held in Boone, Iowa, Aug. 30 – Sept. 1, attendees will see and feel the advantages of multiple MICHELIN agriculture tires. Farmers will be able to participate in a skid steer ride and drive, see a soil-compaction demonstration featuring low-pressure agricultural tires, and learn how a new central tire inflation system (CTIS) enables tractor operators to change air pressures on the go from road to field.
In the field demonstration area, Michelin will have two John Deere 320E skid steer loaders for farmers to test different tire technologies. One machine will be fitted with MICHELIN Bibsteel 12N16.5 All-Terrain radial tires and the other machine will be fitted with bias tires. Participants will drive over an obstacle course to experience the difference in traction, comfort and ride. The radial's flexibility and strength allow the tire to absorb shocks, impact and bumps. The result is a better ride, better operator comfort and greater traction.
In booth 734, Michelin will demonstrate how tires with MICHELIN Ultraflex VF (very high flexion) Technology can carry the same load at up to 40 percent lower air pressure compared to standard radial technology tires, or up to 40 percent heavier loads at the same pressure as standard radial tires, resulting in a larger footprint and reduced soil compaction1. The static demonstration will feature a prepared compaction pit constructed with layers of soil and limestone, with a cross-section exposed to clearly show the rut depths of the tires and the effects of compaction at different pressures.
A sprayer will be equipped with MICHELIN ® Spraybib® VF380/90R46 singles on one side of the machine at the Ultraflex-optimized lowest pressure, and the same size standard radial tire at the normal pressure will be mounted on the other side. The Spraybib tires will be able to carry the heavy load of the filled sprayer at a much lower pressure than the standard radial pressure. The unique sidewall design of the Ultraflex tire allows the tire to run at a lower pressure and deliver an expanded footprint. The demonstration will show how this expanded footprint translates to reduced rut depth, and soil compaction compared to standard radial tires.
In the AGCO Corp. booth (1002), a Challenger MT965E (550-HP engine) 4WD tractor will be fitted with eight MICHELIN® MachXBib®710/70R42 tires. The tractor will showcase CTIS from PTG/Precision Inflation, LLC. CTIS enables a tractor operator to change tire pressures on the go for optimum performance when changing from road conditions to field conditions. Footprint boards placed under the tires will showcase differences in tire footprints from road to field. The tire pressure on the Challenger's eight tires can be adjusted with the touch of a button on the tractor's control panel. CTIS is widely used in Europe and has been increasingly used in North America to minimize compaction and increase traction, fuel economy, and tire performance.
"We are excited to have the chance to conduct drives and static demonstrations to provide farmers with a chance to see with their own eyes the sharp contrast of a side-by-side comparison of our MICHELIN agricultural tires," said Mike Pantaleo, customer engineering support for Michelin Agriculture tires.
For the first time on a North American production tractor, the new Challenger 1000 is exclusively offering one of two types of MICHELIN tires as available options. Both selections offer excellent traction, pulling power and durability to support different tractor applications. The MICHELIN® Agribib® 480/95R50 rear duals offer an industry-leading row crop solution, with a diameter of 85.6 inches and rolling circumference of 255.3 inches to transfer maximum power and torque to the ground. They also feature the best load capacity at a full speed of 25 mph, plus stubble-damage resistance. For heavy draft work, the MICHELIN® Axiobib® 750/75R46 IF (Increased Flexion) rear duals provide a higher-power option. This model is the tallest agricultural tire in the world and the first dual RCI 50 tire in North America fitted on a serial production tractor. It features a 90-inch diameter, top speed of 40 mph, huge load capacity of 18,430 pounds with lower-operating pressure to minimize soil compaction, and a unique bead design that avoids slippage on the rim, even in high-torque applications.
For more information on MICHELIN Ultraflex tires, visit www.MichelinAg.com or contact your local Michelin Agriculture Tire dealer.