New Snoot Boots Extend Life Of JOHN DEERE, CASE IH, NEW HOLLAND Corn Head Snout Points Heavy Duty Snout Protectors Feature Reflective Strip For Combine Operator Convenience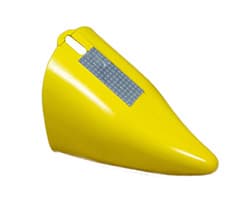 Hutchinson, Minnesota – May Wes, a leading supplier of aftermarket agricultural parts, is pleased to introduce its new Snoot Boots for John Deere, Case IH and New Holland corn head snout points.
Designed with a smooth surface to aid in preventing trash build up, the highly visible Snoot Boots easily slide and snap over existing snout points. Manufactured from long-lasting heavy duty high-impact plastic, Snoot Boots protect and extend the life of OEM snout points.
Snoot Boot snout point protectors feature a reflective metallic strip, making it easier for combine operators to see their snout points in downed corn and after dark.
Case IH and New Holland Snoot Boots are $12 each and available in gray for Case IH 2200, 2400, 2600, 3200 and 3400 series corn heads and New Holland 98C, 98D and 99C series corn heads. John Deere Snoot Boots are $16 each and available in yellow for 90 and 600 series corn heads. Snoot Boots are sold per snout.
Learn more about Snoot Boots and other aftermarket corn head parts at www.maywes.com or 1-800-788-6483.