Poly Snout Product Line Extension for Case IH and New Holland Corn Heads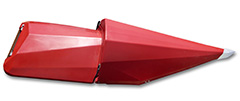 May Wes is the first to offer an after-market poly corn snout replacement for the Case IH 3400, 3200, 2600 Rigid, 2400 and 2200 Series corn heads and the New Holland 99C, 98C, 98D, 96C and 996 Series heads. The initial offering includes complete center row snout units for 30" row spacing. Presently the center poly snouts are available for delivery and retail for $762 per snout assembly. The end poly snouts are scheduled to be available soon. These new center row poly snouts are based on the popular GVL Poly Series II "Jack Knife" design that folds up, in and down. Learn more about this latest product offering online at www.maywes.com or call 800.788.6483.
EXCLUSIVE DISTRIBUTOR
May Wes is the exclusive distributor of GVL's Agri Poly product line. GVL offers two design series; the Jack Knife and the Rigid. The Jack Knife has double pivot points allowing the units to fold up, in and down for easy access for maintenance and optimizing storage. Both are designed with non-stick poly material that absorbs impact, resulting in less ear bounce and denting. GVL Poly Snouts have deeper shoulders for better crop retention and work well in down corn situations. Poly Corn Snout kits are available for John Deere, Case IH, AGCO models and more.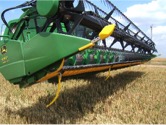 WE'VE GOT YOUR HEADERS COVERED. NOW AVAILABLE – HEADSIGHT® HEIGHT CONTROL & ROW GUIDANCE SYSTEMS FOR CORN AND GRAIN HEADS
ADDITIONAL MAY WES HEADER PRODUCTS INCLUDE:
Poly Skid Shoes
Poly Retractable Fingers
Auger Trough Liners
Quick Disconnect 2 Stalk Stompers

Poly Tines
Corn Shields
Ear Savers
Poly Snout Savers
ABOUT MAY WES MANUFACTURING
Since 1972, May Wes Manufacturing has been working with poly-based products and assures all products have been FIELD-TESTED and FARMER-APPROVED before they're sold. The company has always been an innovator of ag equipment after-market components leveraging expertise with UHMW Polyethylene material. May Wes is a division of Pride Solutions LLC and is located in Hutchinson, Minnesota, USA.
MAY WES
800.788.6483 // www.maywes.com