Redstone Industries LLC DBA MK Industries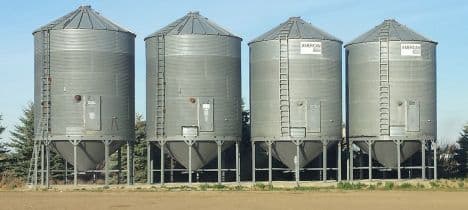 NEW OWNERS OF HOPPERCONE
Redstone Industries, LLC of Iroquois, South Dakota is pleased to announce the purchase of MK Industries, the manufacturer of hoppers for grain bins. Previously located in Rock Valley, IA, MK Industries has been manufacturing hoppers for new and used bins for over 25 years. Marvin and Kathy Kaptein, the owners of MK Industries wished to retire. The new owners, Brian Hiebert and Byron Adkins of Iroquois, SD formed Redstone Industries, LLC and have moved the company with all equipment to South Dakota.
MK Industries specializes in bolt together hoppers. This allows hoppers that are too large for transport to be built in sections and bolted together on site. By using CAD software, each hopper is designed and built to fit the bin. By using a bolt together design, it is possible to ship multiple hoppers without oversize and over width loads. "However, now that we are based in South Dakota, we are offering a fully welded hopper as well as our current bolt together models," says Brian Hiebert one of the owners. "We are looking forward to serving existing dealers and customers nationwide; however, by moving the company to South Dakota, we are able to take advantage of shipping wider loads to the surrounding area. Hoppers that are fully fabricated and welded in our facility eliminate almost all assembly time once the hopper reaches the farm."
We currently offer sizes of 10' to 42' diameter with whatever degree slope is desired. We also continue to offer aeration kits, auger boots, skid bases and ground operated bin lids.
REDSTONE INDUSTRIES LLC • DBA MK INDUSTRIES
605.546.2368 // www.hoppercone.com