ROXOR BRUSH RIG UNVEILED WITH ALLEGAN FIRE DISTRICT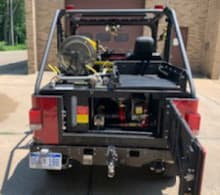 The Allegan Fire District located in Allegan, Michigan has just unveiled the newest addition to their fire-fighting fleet with a rugged ROXOR "brush rig." Intent on protecting the adjoining 50,000 acres of the heavily wooded Allergan State Game Area, this new 4x4, turbo-diesel powered fire-fighting machine will provide reliable access to even the most remote areas of this tourist destination known for its boating, fishing and swimming activities.

The ROXOR is fast becoming the preferred fleet vehicle for land and wildlife management, construction job-sites, farm work, and governmental agencies, including fire departments. The Allegan Fire District's new ROXOR is properly outfitted and ready for use in any off-road emergency situation with all the necessary tools and equipment. Upfitted components include a hose with water tank, multiple axes, Halligan bars, pike poles, personal protective equipment, medical supplies and more.

"The Allegan Fire District continues to try and find the most effective, universal, and cost-efficient ways to assist in our many areas of responsibility" said Nicholas Brink, Fire Chief of Allegan Fire District. "The ROXOR fills the need for a durable, affordable and incredibly capable off-road vehicle for fire control work and rescues in our densely wooded areas. It's also smaller and can reach locations our larger fire trucks cannot access."

South Haven, Michigan's ROXOR dealer, Countryside Motors, worked directly with a firetruck up-fitter which developed and installed specialty-use items configured for the ROXOR's rear sturdy metal cargo area. The up-fitter builds a multitude of fire rescue components for small to large vehicles, with this being the first of many ROXOR rigs. Fire departments like Allegan can utilize grant funds for upfitting a "brush rig" when sourcing the base unit of ROXOR from their local dealer who will also provide service and parts for the life of the vehicle.