ShieldAg Equipment - Cut Milo and Sunflowers with Your Corn Head?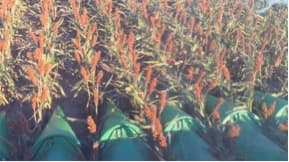 Absolutely, YES !!!
Using the ARRO Corn Head-Row Crop Conversion Convert any late model Deere or CaseIH Corn head to efficiently harvest sorghum (milo), sunflowers and other row crops, without the expense and maintenance costs of a rebuilt or new row crop header.
Visit the ShieldAg Equipment booth at these upcoming farm shows:
• Amarillo Farm & Ranch Show 29 Nov - 1 Dec.
• Nebraska Power Farming Show 6 - 8 Dec.
• US Custom Harvesters Convention Omaha 19 - 21 January
• Kopper Kutter LLC, Cimarron, KS
• ShieldAg Equipment, Hutchinson, KS
Demo videos and product information on ShieldAg FaceBook