"Stress Less" With Safe Animal Handling And Reduce Worker Injuries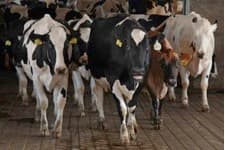 JEFFREY B. BENDER DVMM
Co-Director, Upper Midwest Agricultural Safety and Health Center (UMASH), School of Public Health, University of Minnesota
Moving and handling 1400-pound animals is not a job for everyone – it is however, one that dairy farmers do every day. Across the Midwest large dairy cattle are moved to and from the parlor several times each day. When livestock are in group pens, human caretakers are potentially at risk for injuries. Unfortunately, livestock-related injuries account for a high rate of lost work days.
People are a major source of anxiety for the cow. Stressed cattle are more difficult to handle and this puts workers at an increased risk of accidents. Much of an animal's anxiety comes from how they are handled. Studies have shown cows handled by an aversive handler had reduced milk efficiency compared to cows with gentle handlers. Animals quickly learn to recognize individuals and can distinguish between those who treat them gently and those who do not.
KNOWING LIVESTOCK BEHAVIOR IS THE KEY TO SAFE ANIMAL HANDLING
Safe animal handling focuses on handling interactions (i.e. communication) between humans and cows and includes low-stress handling techniques. This takes advantage of the basic, natural movements of livestock and is a method for humans to interact with these animals in a way that they understand. Knowing livestock behavior is the key to moving animals effectively. For example, a calm and relaxed cow at milking means minimal defecation and kicking in the milking parlor, and improved milk let-down. Farmers using these methods are less likely to be injured and face fewer challenges moving cattle.
The Upper Midwest Agricultural Safety and Health Center (UMASH) has developed FREE dairy worker training resources that include: a 5-part video series, fact sheets and barn posters in English and Spanish. These resources can be used alone or in combination for training purposes in small, medium and large size dairies.
EASY TO USE TRAINING VIDEOS - ENGLISH AND SPANISH
A five-part video series on dairy stockmanship focused on positive animal handling and is intended for farmers, ranchers, farm employees, veterinarians, human resources training staff. Topics include:
Using Predictable Animal Behavior to Increase Milk Production
How a Cow Uses Her Senses
Working with the Pressure Zone
Moving Cows More Effectively
Making the Milking Parlor a Happy Place
BARN POSTERS - ENGLISH AND SPANISH
Barn posters can serve as a visual reminder to practice safe animal handling. These 11 x 17 inch posters are UV coated for added protection from the outdoor elements. The posters include:
Be PALS

PATIENT
Consider the ANGLE of your approach
Think about your LOCATION relative to the cow
Slow the SPEED of your movements

Keep Calm and Move Cows (2 different styles)
TRAINING IMMIGRANT WORKERS - ENGLISH AND SPANISH CURRICULUM
Immigrant workers have increased in agriculture - particularly working on dairy farms. Often times they have no farming background or experience working with animals. Other challenges include language and cultural differences.
Seguridad en las lecherías curriculum provides an effective tool for training immigrant workers in dairy to reduce worksite hazards and to improve worker knowledge and practices. Lessons include:
Lesson 1: Working Safely in Dairy
Lesson 2: Working Safely with Cattle
Lesson 3: Staying Safe with Equipment and Machinery
Lesson 4: Workers' Rights and Responsibilities: Safety and Health on the Farm
Lesson 5: Working Safely around Chemicals, Confined Spaces and Silos
OTHER FREE TRAINING RESOURCES - ENGLISH AND SPANISH
Farmers, ranchers, veterinarians and on site workers are susceptible to needlesticks on the job. These injuries can be serious and may require medical attention.
FACT SHEETS AND POSTERS INCLUDE:
Needlestick Prevention on the Farm
Needlestick Prevention - Producers and Veterinarian
Don't Get Stuck
Sharps Disposal for Safety in Livestock Settings
All UMASH training and education resources are free to use, share and download for educational (non-commercial) purposes. Please let us know what you think and how you use these resources in the workplace. Comments can be sent to ctrefry@umn.edu.
JOIN THE 2018 FARM SAFETY PARTNER CAMPAIGN SEPTEMBER 1-30, 2018 - VISIT UMASH.UMN.EDU -