Trimble Acquires 10-4 Systems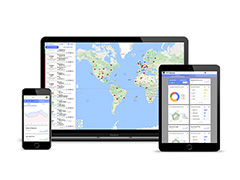 Trimble has announced it has acquired privately held 10-4 Systems, a provider of multimodal shipment visibility solutions for shippers and transportation companies.
The acquisition is aimed at expanding Trimble's portfolio of transportation management systems to include a cloud-based solution for small carriers as well as a shipper RFP platform. Financial terms were not disclosed.
Based in Boulder, Colo., 10-4 Systems offers solutions for real-time shipment visibility, offering SKU-level detail and estimated time of arrival to improve collaboration between shippers, third party logistics companies, transportation providers, and carriers.
Travis Rhyan, current president and CEO of 10-4 Systems, will continue to lead the company as executive vice president and general manager.
"With the addition of 10-4 Systems, Trimble will significantly enhance its ability to help the transportation industry optimize demand and capacity management and improve utilization of long-haul trucking assets," said David W. Wangler, president of Trimble Transportation Enterprise.
Demand for end-to-end visibility is being driven by the rise of online-only and omni-channel commerce, which is causing shippers to rethink traditional inventory positions and transportation networks, according to Trimble.
"We are excited to bring the benefits of our advanced enterprise visibility platform to the thousands of supply chain partners that rely on Trimble's Transportation Enterprise solutions," said Rhyan. "Trimble has a clear commitment to offering leading-edge technologies and collaborative solutions that enable customers to increase efficiency, profitability and long-term competitiveness."
TRIMBLE
www.trimble.com